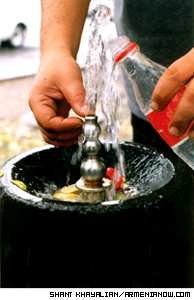 When there is no water in the apartments, fountains are the saviors.
As Yerevan modernizes its water utility payment service, officials face a dilemma concerning an old tradition.
Public drinking fountains (called "pulpulacs") bubble up from many street corners and yards throughout the capital (as well as in other cities). But now that residents are being required to pay for measured amounts of their drinking water, who will pay for the fountains?
"There will probably be some changes in this field as well," says Press Secretary of the Head of State Committee on Water Industry Susanna Badalyan. "There are fountains and people use them both in the center and in their yards, however, someone must pay for that, mustn't they?"
Badalyan assures that discussions were conducted with the mayor of Yerevan for making that issue clear. According to that decision, the fountains, located on the territories belonging to nobody, will completely remain under control of the department on water conduits and canalization, however, an issue of fountains located in the yards remains unsolved.

"Today there is even no exact information on how many drinking water fountains there are in the republic so that we could know for sure what we must do," Badalyan says. "By force of habit Armenians on every sad occasion, mainly in case of someone's death, decide to immortalize the memory of the deceased and build fountains with memorable inscriptions on them. However, water flows and the department on water conduits and canalization bears losses."
Historian Anahit Hovhannisyan says that any quick decision to shut down the fountains could cause great damages both to outward appearance of the city and to its residents.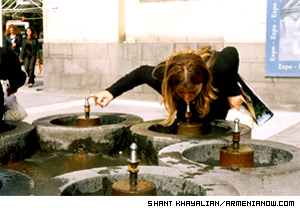 The more fountains, the better: by closing one the another doubles its generosity.
"Fountains and drinking water fountains have always been the face of our city," she says. "Every time tourists visit Armenia they are surprised at the drinking water fountains."
Badalyan assures that the department on water conduits and canalization will do everything possible to make all waterworks and drinking water fountains continue functioning, especially in the center of the city. But they will have no control over fountains located in the yards any more.
"There is an idea of installing nice taps and it will allow to open, drink water and then close a tap again," says Badalyan, "in this case we can save water. I hope the same will be done with fountains of the yards."
In Echmiadzin it is possible the imposed fee on water will be the end of public fountains.
"Everything will be normal if residents of buildings agree to install water meters on fountains and pay for used water," says director of department on water conduits and canalization ltd. Karen Avagyan. "But if residents refuse to do that then we will have to shut down fountains because we can't pay for that."
"Residents of our district are mainly insolvent and I don't think they will be able to pay for fountains," says resident of Echmiadzin Zvartnots district Nelly Woskanyan. "However, if we don't have functioning fountains then residents of many districts will be sentenced to no water because we often have no water during many days and we have to carry water in buckets from fountains. And it's not clear what will happen with us in that case."
Avagyan says that people won't be frugal if they don't pay for fountains.
"Very often during his inspections in the districts our coworker notices how uselessly fountains throw water to the height of 3-4 meters," says Avagyan. "Somewhere else women are washing carpets and wool with drinking water for hours. Nobody saves either water or our work. In this case the best solution is water meters and payments."