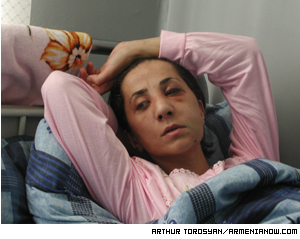 Gayane Mukoyan, the editor of the "OR" newspaper was hospitalized with a broken nose and hemotoma of the eye.
The editor of "Or" newspaper in Yerevan was carjacked and severely beaten September 27 by unknown men wearing black stocking caps.
Gayane Mukoyan, 30, has been released from Yerevan Hospital No. 2, where she was hospitalized with a broken nose and hemotoma of the eye.
Shortly after midnight last Saturday, Mukoyan and her husband Rafael Hovakimyan, director of "Or", were returning home when their Jhiguli brand vehicle was crossed by a white Niva car without a license plate in the Nor Nork district of the capital.
Four men dragged Mukoyan and her husband from the car. Two attackers hit Hovakimyan on the head and forced him back into car, while two others started to beat Mukoyan until she lost consciousness.
Sos Shahinyan, a doctor on duty when the two were admitted around 1:20 a.m., said both victims suffered concussions and that surgery was performed to repair Mukoyan's nose.
Police are investigating the incident but so far have made no arrests.
Mukoyan believes the attack was directly related to recent stories in her newspaper and is retaliation from "people who were sharply criticized by our newspaper".
Some weeks ago "Or" started an investigation and published stories accusing several businessman for being responsible for recent (artificial, according to the paper) price increases in bread.
"I am sure those stories made many feel unhappy," Mukoyan said.
The newspaper, published thrice weekly, started about 18 months ago and is widely perceived by other media as "gutter press" and a scandal sheet.
Last year journalists societies in Armenia harshly condemned Mukoyan and her newspaper when it published an article about the editor of "Aravot" (Morning) newspaper Aram Abrahamyan, accompanied by photographs of him with a prostitute.
The journalists accused Mukoyan of taking a payoff for publishing the photos, which were taken from a hidden video camera believed to have been planted by opponents wishing to blackmail the outspoken Abrahamyan.
Yerevan journalists announced a boycott of Mukoyan and her newspaper over the incident, and excluded her from the National Press Club and Association of Investigative Journalists.
The editor denies speculation that the attack could have been for personal reasons. Her former husband is presently in prison for murder.
"The attack was well thought-out. I do not think that my ex-husband could afford to hire professionals to beat me. The aim of the attackers was to frighten me. It was not revenge for my personal life," she said.
Some local media are saying Mukoyan was beaten because her publication had previously taken payoffs from politicians and powerful businessmen to not publish unflattering stories. But when it did not agree to a payoff in this case, according to other media, certain businessman decided to punish the editor.
Mukoyan says that her paper, which is the cheapest in Armenia (about nine cents), sells about 2,500 copies per issue.
Unlike other publications in Armenia, "Or" is neither pro-government nor oppositional and regularly criticizes both political sides.
Mukoyan wonders why some local journalists expressed an indifferent attitude toward her attack.
"The attack was directly related to recent stories in the newspaper..." says Mukoyan.
"Some media and media organizations prefer to ignore the incident and think of the boycott that once they demonstrated. But the journalist in Armenia is not safe and each must think that tomorrow he may become the target of someone's hate and appear in my state," she said.
Attacks on journalists are a rare but not unknown phenomena in Armenia.
Last October Mark Grigoryan, a well-known independent Armenian journalist (who recently moved to London) was badly injured when an assailant threw an explosive device at his feet. Law enforcement called it a pre-meditated murder attempt.
And last December journalist Tigran Naghdalyan was murdered in a case that is now being heard. (Click here to see related story.)
Despite the general negative attitude toward "Or" newspaper the Armenian media community severely condemned the attack on Mukoyan.
The newspaper "Golos Armenii" wrote that censorship in Armenia is being developed not within the legal framework (as a new media law has passed the first reading in Parliament) but by people who can not stand any criticism and resort to lynch law.
"One of the most disgraceful traditions of sovereign Armenia is that the problems are being solved by force," the newspaper writes.