The spring season between March 8 and April 7 has an unofficial name "Month of Women" in Armenia due to the two women's holidays. However organizations who deal with women's issues and rights say that the number of women who apply to them for help does not reduce in this spring period.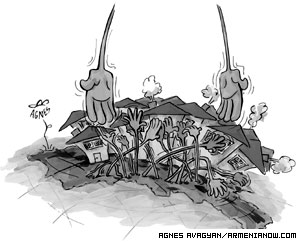 Helping hands have reached out from abroad for troubled homes.
Specialists say that domestic violence has increased in recent years in Armenia partly because of unstable socio-economic conditions. Nationalists argue that domestic violence is not prevalent in Armenia because of strong family traditions. Others, however, admit that the economic challenges of the country in the last decade has contributed to an increased rate of family conflict.
According to a survey by the Armenian Maternity Fund non governmental organization more than 35 percent of women out of 1,200 families surveyed experienced physical violence and 70 percent were psychologically abused.
"During one year over 1,500 women applied to our center for psychological help," says Susanna Aslanyan, the head of the fund. "The Hot Line of our center received more than 500 calls from women and provided shelter for more than 60 women and children who were the victims of domestic violence," she says.
Narine Tovmasyan, a psychologist at the center says in many cases the conflicts between married couples appeared because their marriage was spontaneous, largely due to the will of parents rather than the desire of wife and husband.
"In Armenia , conflicts in families are also conditioned by the fact that wives live with the parents of husband and conflict appears between people sharing a household. The wife prefers the tradition of her own families while the parents of the husband in most cases are dissatisfied with the efforts of their daughter- in- law to bring the new traditions to the family," the psychologist says.
Susanna Vardanyan runs a center where 1,000 calls per year are received.
Narine Kalajan divorced after being psychologically and physically abused for seven years by her husband and the family of the husband. The problems appeared when the husband lost his job and was forced to go Russia to earn money."After my husband left I learned he has got another family in Russia . Instead of blaming him for becoming a bigamist, his parents started to support him, attracted by the fact that he might easily get citizenship in Russia with the Russian wife," she says.
Narine says one day his parents directly told her to leave the house with the children.
"I refused to leave or give a divorce, which I regret now. I went through the insulting and offences for the sake of the family which I hoped I could keep. As for my parents in law, they were thinking rather to secure themselves in their old age, backing their son."
Narine was forced to go back to her native village, where she lives now, maintained by the support of a sister.
Yerevan police say it is difficult to report the real extend of domestic violence against women in Armenia , because few cases are being reported. Most victims don't go to police, to avoid embarrassment.
Armine, 38, says her marriage "was a nightmare". Despite she was constantly beaten and humiliated by her husband, she lived with him for 15 years.
"I was beaten even when I was pregnant. However I could not divorce, otherwise I would appear in the street with two daughters," she says. "I was ready to stand my husband's humiliation only for the sake of the children. However when he started to insult and curse the children my patience was exhausted and I made a decision to divorce."
Recently Armine applied to the Women's Rights Center NGO asking for help. Last week she completed the center's computer and English language courses and says she now feels more confident for her future.
"The center psychologist and lawyers helped me a lot. I hope the knowledge I acquired in the center will help me to find a job and feed my children," she says.
Susanna Vardanyan, president of the center says the center is being attended by many women whose stories are similar to Armine's. The center receives more than 1,000 calls per year by women who need psychological help.
"He beats you, it means he loves you.
"Some people wonder why women do not divorce if they experience violence and insulting. But in fact the women have no place to go. She has no place to live, no job. We are trying to help the women to acquire some profession and find jobs for them," Vardanyan says.
Vardanyan believes that domestic violence is also conditioned by the wrong education of teenagers by their parents.
"The boys are educated to be the head of the family, the breadwinner, but not to be a husband," she says. "The parents do not put effort into explaining that besides respecting his mother, sister, grandmother, he has to respect his wife. That is why we have some occasions when wives were beaten by husbands who were perfect sons and brothers."
In 2002 the U.S Agency for International Development (USAID) awarded $477,000 to six Armenian NGOs including the Armenian Maternity Fund and Women's Rights center to support services for victims of domestic violence. The money provided shelters and paid for training programs.
But the organizations say when the financing is finished they will look for new donors, because for now they see no indications of domestic violence reducing.