Three women are quickly walking along the shore of Yerevan Lake . Drops of water clinging onto their hair glisten in the spring sun. It is March, but they are dressed in summer clothes, which are almost completely wet.
With great effort, they drag a worn bag with the wet and gray mass of other clothes.
A man's home is his . . . cave
"We return from bathing, plus, we've washed some of our clothes," says the oldest of them pointing towards the opposite shore of the lake where a pipe with water flowing from it can be clearly seen.
They direct their steps up stream, toward a row of caves which have survived since prehistoric times.
Eighteen families find shelter in the caves, including 50 year old Roza Sargsyan and her two daughters.
"Come with us, we invite you. We often receive guests," like a kind hostess Roza open-heartedly invites a stranger to their dwelling.
A man hears the conversation, and pops his head from behind a curtain which covers a whole that is the door to this unusual home. He is Roza's husband, Rafik Karapetyan.
Rafik is also 50, and like the others, his clothes too are worn. He stares from flat, blank eyes while one by one Roza shakes out the contents of the bags, straightens and lays the laundry out to dry on iron poles. An unpleasant smell of soap fills the air.
Elina, the fisherwoman
"In my life I don't believe in anything any more. I don't even believe in my God any more. Look, what a terrible life we lead," says the mother of the family.
A year ago the family had an apartment in the Second Block of Nork district. But then their son was seriously injured in an automobile accident, in which his wife and two children were killed. They sold the apartment to pay for his medical treatment, but the son died, too.
For awhile the family rented an apartment near the Cinema Rossiya, for about $18 a month.
Three months later Rafik was offered a job in Karabakh. The family went to Karabakh but couldn't adapt to conditions there. They returned and immediately settled down in the open air.
"My son-in-law knew about this place," Roza says. "He grew up in the neighboring district and often was fishing here. So we decided to live here."
The cave-home is reached by walking up a hillside over stone stairs. A chimney juts out of one corner, where during winter its smoke painted the stone walls with soot.
"We were lucky as the winter was warm. We were collecting sticks and plastic bottles in the streets and tried to manage with them. We often built fire outside," says Rafik.
While parents are telling about how they live, the daughters are noisily trying to catch fish. Twenty-four year old Ida had a miscarriage only a month ago – losing a baby in its seventh month. She jumps into the cold lake and catches fish hiding under stones.
"I found many things in this lake such as a submachine gun and a mine. But it is dangerous to swim here. We walk to Naberezhni (quay) and swim there," says Ida.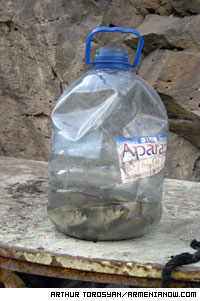 Big fish are eaten. Little ones are fed.
Her sister, 22-year old Elina , sorts fish from big to small in containers of "Aparan" drinking water.
"We eat big ones right away. And we wait for the small ones to grow up and only then we eat them," she says.
They mainly eat fish, which is an advantage of the area.
Roza says that sometimes it happens they remain hungry for many days. But when fishermen or children from neighboring districts come here, they bring them something to eat.
Nearby caves are empty, however it is clear that once people used to live there. Rafik says that many people moved to other places. Others usually leave their caves for 10 days or so, but again come back.
"However, we don't neighbor with anybody. We just live," says Roza proudly.
There is a stereo in one of the cave's corners, which connects them with the outer world. They throw angry words at authorities.
Mother and daughters have lacquered nails and dyed hair. Roza says she doesn't forbid her daughters to do whatever they want and spends money on their interests too.
For two months Rafik has been working on a dumping truck. One of their friends fixed him up for that job. For one month of work he has received 45,000 drams (about $80). However, it seems misfortune pursues them.
His wife says complaining, "he found the job with great difficulties but the crane broke his fingers. But tomorrow he will go to work again as we have no other choice."
Rafik goes to work in the morning at 5-6 o'clock and returns in the evening at 8-9. The family waits for him impatiently as they know he will bring something to eat.
Rafik (and his dump truck injury) and Roza
During conversation they suddenly began talking about their third daughter Angela, who got married in February. In fact, the girl was kidnapped and taken for a bride.
"It's true, they stole our daughter but then we invited their relatives at the day of Trndez (Candle Mass Day). We covered the ground with clothes and laid the table. I had a couple of gold teeth so I sold them so that we could wine and dine them properly. I didn't want my daughter to feel ashamed," says Roza.
They show the place where they built fire and over which all of them were jumping that day. They say they don't feel ashamed and shy with anybody as it is their home.
"Why should we feel ashamed? Let those who are going to laugh at us, walk in our shoes," says Roza.
The parents spent years working at the Yerevan Electric Bulb Factory. However, today nobody in the family thinks of finding a job except for Rafik. They don't even think about the problem of living in the open. And Roza thinks that if her daughter again gets pregnant people will probably pity them and provide a small apartment. She believes the government is obliged to take care of people like them.
A car parks in the distance. All of them look at it. They want to guess who it carries.
"Maybe they are from the Red Cross. They said they would bring aid for us," Roza says.
Laundry day at the lake
Ida destroys her mother's dreams saying they are just ordinary people.
The girls swiftly walk around in the cave showing places where they sleep.
"This is both our dining room and bedroom and kitchen and everything. But we don't have things like pillows, blankets and mattresses," explains Elina.
Ida says she used to sleep with her husband (she doesn't even know where is he now) next to the stove. And when the couple needed privacy, the parents and sister used to go for a walk. The whole shore is at their disposal.
Roza says people from different TV channels often visit and film them. Then they show them on TV and people know about the place where they live. People come to see "residents of caves" but they don't come empty-handed.
"In the morning we ate fish and in the evening crawfish. God is great. God helps and doesn't allow us to remain hungry," she says despite she doesn't believe in God.
They see their guests out without opening and closing the "door". They simply wave a farewell saying: "Come again, our doors are always open."