The works of the artists and painters included in the catalog created a special atmosphere.
Every artist's studio is a special gallery, where art works pass along a very interesting journey from ideas and philosophy to final realization. The atmosphere of those hidden galleries is so attractive that many art lovers wish to dive into it and, of course, select the art works they would prefer to live with.
Even a few days ago it was a problem to find these studios. The lack of information kept them really hidden. Now things are different. Art businessmen have filled this gap by publishing the "Hidden Galleries" catalog.
The presentation of the catalog and the exhibition of artists involved in this project took place on September 15-16. The organizer of the event as well as the publisher of the catalog was Art Bridge Bookstore Cafe.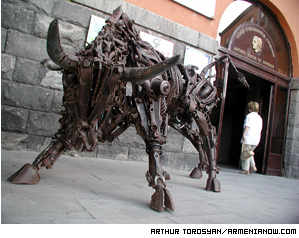 A huge bull did not scare off the visitors of the exhibition.
The catalog presents 52 Armenian painters' and sculptures' works with their addresses and telephone numbers. The catalog will be distributed free to all hotels and art saloons.
"This is a great idea," says Mari Sariyan from Beirut. "A few months ago I tried to find an artist whose works I saw in a magazine. I applied to many organizations, including the Armenian Painters Union, but nobody could help me. Thanks to this catalog now I can reach by phone any artist whose works I would like to have."
The selection of artists was made without any bias or personal preferences. Everybody who had a studio and wanted to be included achieved their goal by providing his or her contact details.
"We publicized our pending publication through the media and artists' community. We had enough space in our 52 pages, but due to the main idea of this project we were not able to include those who didn't have studios," says Shake Havan, the initiator of the "Hidden Galleries" catalog and director of the Art Bridge Bookstore Cafe.
Shake is hoping that the catalog will bridge the gap between artists and art lovers worldwide, leading them to discover Armenia's hidden galleries, to discover the magic and the magnetism of national art.