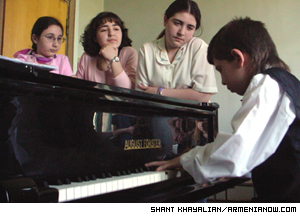 The winners: Tsovinar Sufelyan, Lilit Grigoryan, Sona Barseghyan and Levon Avagyan. .
Four young Armenian pianists Lilit Grigoryan, Levon Avagyan, Sona Barseghyan and Tsovinar Sufelyan earned high honors at the First Tbilisi International Young Pianists Competition last week in Tbilisi.
Competing against more than 100 musicians from Georgia, Ukraine, Russia, Poland, Italy and other countries the Armenians returned with one silver medal, two bronze medals, diplomas and special awards.
Seventeen-year-old Lilit Grigoryan, a student at the Yerevan State Conservatory, was among the top winners, earning the silver medal, diploma, an Anjaparidze Special Award for Excellence and prize money.
"I'm very glad for our success," Lilit said. "I've participated in many competitions in my life but such an appraisal at the international competition is of different significance and it will help me a lot."
Thirteen year old Sona Barseghyan and 12 year old Levon Avagyan took third place with bronze medals and diplomas.
"Everything was so surprising and fabulous that I will remember all of that for the rest of my life," Sona said.
Tutors and others present say that members of the jury and audience were impressed. The Armenians were called upon to perform compositions from Georgian classics during the competition's gala finale.

"Piano players of very high quality were participating at the competition," said Robert Shugarov, professor of piano at the Conservatory. "Already in the first round everybody was coming up and congratulating us as our kids had performed brilliantly."
Tutor Hasmik Hakobyan said success at such a major competition should boost the students' confidence while also demonstrating the quality of Armenian music schools.
"After returning our kids started to work with new strength, inspiration and enthusiasm," Hakobyan said. "I'm sure in the nearest future they will progress with more major strides and achieve new successes."