Jemma Davtyan works in the cancer ward.
"I don't want to run into memories," says the middle-aged woman, closing her honey-colored eyes. "From now on the earth has started spinning around in a different way."
It was a summer day about three years ago when Marine Galstyan's disease was confirmed. And a burden heavier than lead fell with the diagnosis that changed her future.
Relatives with somber faces slowly and heavily began visiting Galstyan's family for expressing their unpersuasive words of encouragement.
Marine Galstyan was sick with cancer.
"These days the cancer rate has very high indices," says director of the health center Bazikyan. "The reasons are smoking, and improper diet. But the most important in this case is constant stress."
According to statistics, more than 75,000 residents of Armenia have been diagnosed with cancer in the past 15 years.
"The figures are extremely alarming for such a small country like ours," says doctor-analyst Poghos Poghosyan, who has been dealing with the problems of this field for several decades. "It seemed that morbidity tendencies should have decreased, however, just the opposite is taking place."
Bazikyan says that every year more than 5,000 new cancer cases are registered in the republic. And, unlike Soviet times, when medical examination was compulsory and medical services were free of charge, these days the problem is complicated because most cancer patients go to a doctor only after the disease has progressed beyond help.
"Patients apply to doctors very late, mainly at the third or fourth stage," Bazikyan says. "In that case effectiveness of treatment is extremely low. In spite of that, however, we have patients who (went in remission) and lived five or more years."
According to law, treatment of cancer and care for cancer patients must be carried out free of charge in the republic. Immediately after making diagnosis and confirming the disease, cancer patients are automatically passed under wardship of the state.
Representative of Healthcare Agency on the Government of RA Karlen Antonyan assures that only last year the state budget allotted more than 300 million drams (about $515,000) for providing medical treatment for cancer patients.
Dr.Gagik Bazikyan blames strees as a cause of cancer.
"Moreover, according to the law, patients also have a right to get medicines for free and undertake chemotherapy and physiotherapy free of charge," says Antonyan. "These days the government is consistent in this issue and unlike previous years the situation is much better."
Bazikyan doesn't deny that unlike the past few years, today's financial situation in this field is better. He says, however, that government still does not effectively pay doctors and provide patients with latest medicines.
"At average the government pays 70,000 drams (about $120) for one course of treatment of each patient sick with cancer and, of course, it is not enough at all for covering all expenses," says Bazikyan. "However, we hope that in the nearest future the decision on increasing an amount of allotting money will be adopted and that decision will also have influence on improving the level of health services."
Marine Galstyan, who still tries to be cheerful and receive people with a smile and treat everyone well despite her hard state, says that a great part of her problems is connected with inefficient treatment in hospital and the indifference of medical personnel.
"Maybe according to the law we must be treated free of charge, however, today nothing is free for us, only with small exceptions," she says. "Everything has its firm prices including injections and care."
Galstyan says examinations for systemic conditions related to her cancer cost at least $15. Laser therapy costs $50. She says once she was only able to pay $30 and received several burns during the treatment.
"There is nothing like that in our hospital," assures Sergey Seinyan, deputy director of Fanarjyan Oncological Research Center where most cancer patients are treated. "Today a doctor's salary is 12,000-14,000 drams (about $20-24), which isn't a worthy price for specialists at all. However, there are no delays and the salaries are paid always on time. And patients who have malignant swelling are treated free of charge."
But patients and relatives say there is a great difference between the reality of medial officials and of patients.
"For three years I haven't seen the power of state-guaranteed order," says Amalia Hambardzumyan. "We were paying for using elevators and rooms, we paid to personnel starting from nurses to those who keep syringes, as there is no other way. If you want to get medical treatment you have to do that."
Hambardzumyan says that many patients are told to leave if they can't pay.
Antonyan says that even though the state finances care for cancer patients, the habit of unofficial payments is ingrained in the medical profession and its clients.
"Salaries are paid on time," Antonyan assures. "Problems with supply of medicines are resolved as well. However, unfortunately doctors still tell patients that they don't get salaries and have other problems for taking money from them. These days we have a real problem of struggling against that evil. It's not clear how we going to do that.
Patients are concerned how current conditions might impact their health care.
"I don't know what doctors think when they express such a cynical treatment towards serious patients like us," says one of the patients, who was afraid to give his name. "Aren't they ashamed?"
Another patient says that before one regular examination one new young nurse whispered,"You have a right not to pay. Why do you do that?"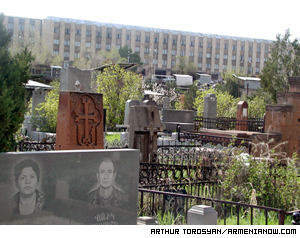 Cancer hospital windows look out onto a graveyard.
"Sometimes, when I take my mother to hospital for getting necessary treatments, I hardly can restrain my anger and not go mad," says Anahit, elder daughter of Marine Galstyan. "Patients who are pale, weak and light, who need not only medicines but serious care and kind words as well, have to sit from dawn to dusk in cold corridors and listen to doctor's laughter and mirth greeting from behind closed doors waiting when they will deign to receive them. And as a result, if you have no possibilities to pay individually, you can leave the place without getting any attention from them. Patients stay silent as they know that their life and health totally depends on them, and only God knows where did conscience and amiability disappear."
Seinyan says accusations that doctors are taking "under the table" money is just a false impression.
"As a token of gratitude patients sometimes give presents to doctors," he says. "What do they want, that even such things not exist?"
Psychologist Narine Tovmasyan assures that cancer patients also need psychological assistance.
"Of course, the inhumane conduct of some doctors has a negative influence on patients," she says. "All those factors have a negative influence on patients' health and process of their treatment."
Marine Galstyan, for whom cold and inhospitable hallways have become too familiar and a wig is necessary to cover the effects of chemotherapy, says that three years after learning she had breast cancer, there are days when she wants to die.
"I ask myself 'Why?', they are doctors, aren't they?. But instead of encouraging, helping and invigorating, they depress and humble you and everything fades away," says Marine. "During three years I managed to pay and get treatment only for one year in total and, as a result I found myself in worse health condition. The saddest thing is the hurt that I have in my heart and soul."