Seda Mkrtchyan watches news of the war in Iraq and thinks of conflict closer to her home in the Pokr Vedi village of the Ararat region.
"When I look at the captives of the Iraqi war with their hands up, my heart is aching, but I also understand that it is war and everything is possible," Seda says. "My son was taken captive in peaceful conditions."
It has been more than five years (February 1998), since Seda's only son, Armen, disappeared from his regimen while encamped in the Martakert region of Nagorno Karabakh. He had been called to service 10 months earlier, and his letters home were mostly optimistic about his life as a conscripted soldier.
Seda found out about her boy's disappearance by accident, 19 days after he had gone missing.
"On March 17 my Armen had to return from the military line. On March 19 we asked our Karabakhi friend to visit him and let us know. He was told that Armen had disappeared since March 1," she says.
Also on March 19, military police came to the Mkrtchyans house, claiming that Armen had deserted his post and accused his family of hiding him.
At the military commissariat in Ararat, the Mkrtchyans were told they should go to Karabakh and find out for themselves where their son was.
At his regimine, Seda and Armen's father, Abo, were told that Armen had escaped, taking with him his weapon and a sapper's spade. They say a unit commander told them to return the weapon, adding "we don't even need your son".
But the battalion commander Lyova Avetisyan assured the parents that on March 2 somebody saw Armen in the village.
"We started seeking in the whole Martakert region with my Armen's photograph in our hands," Seda says. "We met people in the villages who were saying that his face seemed familiar to them and it inspired our hope.
"So we went through mountains and ravines at night through the wind and rain, when one can see nothing. There was only God above and us. I wouldn't even wish those days to my enemy. Our car broke and we had to walk, it was mud and raining, my feet slipped. I asked my husband what he would do if Armen responded and he said, 'Nothing, if only my eyes see him'."
They continued looking for him also in the opposite direction towards Kelbajar. They searched in vain for 21 days.
Today Seda shows a thick portfolio of documents concerning the military's search for her son.
"Instead of my son I got these papers and nothing else," she says.
On April 14, 1998 the military prosecutor's office of Askeran, Nagorno Karabakh, instituted legal proceedings against Armen Mkrtchyan with the charge of leaving his military post and stealing a submachine gun entrusted to him for military service.
A week later the commander of the military unit told Abo Mkrtchyan to promptly go to Stepanakert. Thinking that his son had been found the father hurried there.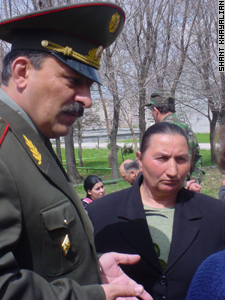 "In the office of the deputy of the military unit's rear commander, Samvel Karapetyan called a policeman, who put handcuffs on me and took me to prison," the 60-year old father told a Yerevan newspaper a year later. "When I asked why they were taking me to prison, they started to hit me with baton."
After keeping him in prison for eight days, the military unit commander kept Abo Mkrtchyan in the unit for two more days, during which time he said he was attacked by dogs.
Following 10 days of complaints by Seda, Abo was released.
One year after Armen's disappearance the pre-investigating body of the military prosecutor's office found that on March 1, 1998, Armen Mkrtchyan was beaten by the sergeants of his unit Artak Javeyan, Nerses Hovhannisyan and a private, Gegham Hakobyan. According to the prosecutor's office soon after the incident Armen left the military line in an unknown direction.
"Those who have beaten my son were never called to account. Investigator Samvel Hovhannisyan said that evidences are not enough and they should also find Armen," says Seda painfully. "What happened to my child? If they killed him, tell us, but if he is alive then he will be found. The investigator says ask for your son from whomever you gave him to. I gave my son to the State. What was my son doing in Karabakh?"
The Mkrtchyans would visit the prosecutor's office several times a week and spoke a few times with Republic of Armenia Military Prosecutor Gagik Jhangiryan.
"He told us: 'Take a spade, go to Martakert's military line, dig and find your son. What can I do, if your son disappeared?'
On June 6, 1999 Abo Mkrtchyan went to the prosecutor's office alone.
The next day he hanged himself.
"He couldn't bear the law-enforcement officers' mockery and jokes," Seda says. "What can I do? Will I kill myself like Abo? I have three children."
Seda lives with her 20-year old daughter Anahit.
"I am waiting for Armen to come so that my daughter can get married," Seda says.
On September 23, 1999 during an exchange of Azeri and Armenian prisoners (they are not considered Prisoners of War), four Armenian soldiers recognized Armen by photo and confirmed that he was alive and was held captive.
"Armen from Ararat?" asked Hapet Tonoyan who was set free from captivity and then described in details Armen's appearance.
According to the testimony given to the investigation body by another prisoner, Aram Babayan, Armen Mkrtchyan was being held captive in a military unit called Shuvalan.
The International Red Cross, Organization for Security and Cooperation in Europe and other international organizations dealing with captive issues officially presented information about not only Armen Mkrtchyan but also other captives to Baku.
"This question was raised at the level of Armenian and Azeri ministers," explains Karine Minasyan, coordinator of International Working Group, Armenian branch. "But Azerbaijan answers that there are no captives held within their territory. On September 23, 1999, after releasing the prisoners, President of Azerbaijan Heydar Aliev announced that they had no other Armenian captives, and so it is natural that all answers should be refused. The exchanges made during the last years were all new events."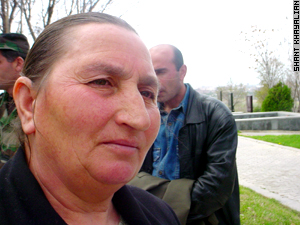 According to General Michael Grigoryan of the State Commission of the Ministry of Defense on the issues of captives, hostages and missing soldiers, today there are 18 captives in Azerbaijan. These are people concerning whom there is certain data on when, where and under what circumstances they disappeared.
"We can tell with confidence that we have captives in Azerbaijan," Grigoryan says. "I don't say that for propaganda like them, when they mention 800-900 captives. This is absurd. It is not possible to hold so many captives in such a small territory hiding them from international organizations. Today there are 18 captives in Azerbaijan, information about them we got from the exchanged captives, international organizations and the Azeri captives."
However, international organizations are not the only way to get the captives back. Often there are cases when intermediaries from Georgia find parents and for fantastic sums ($30-50,000) promise to get back the captives, who according to Azerbaijan side are not in their territory.
"All I have is this house," Seda Mkrtchyan says. "Let them give my Armen back and I will take his hand and go out of here."