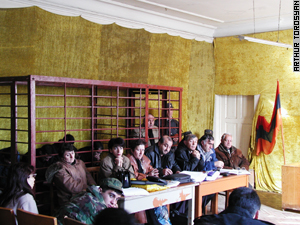 A court in Vanadazor has returned a verdict in the murder case of 22-year old Artyom Sargsyan, a soldier killed by other members of his unit February 25 last year, two months into his conscripted duty.
The Court of First Instance returned guilty verdicts against soldiers Aghabek Tadevosyan (sentenced to seven and a half years) and Varuzhan Khachatryan (four years). A third soldier, Artashes Karapetyan was sentenced to conditional detention during the remainder (one year) of his duty.
The court also found sonogram specialist Anahit Babayan guilty of negligent manslaughter and sentenced her to two years of "colony" imprisonment, which she will serve out at her home.
Artyom Sargysan had been a leader of a group of post-graduate students who protested their conscription orders, on the basis that they should be allowed to finish studies before serving their military duty. But while a court was hearing their appeal, Sargsyan and about 15 others were taken into service. (Click here for more information on the case.)
The court found that Sargsyan was beaten to death by the three soldiers charged, with Tadevosyan as the group's leader. But over the past year, human rights advocates have reported that Sargsyan's murder was ordered by officers who objected to his speaking out against the conscription process.
The slain soldier's parents say they are outraged by what they see as mild sentences and have applied to an appeals court for a second trial.
Rafael Sargsyan, Artyom's father is himself a lieutenant-colonel in the army.
"I feel myself humiliated as a military man and I am inclined to think that Artyom was killed as a son of a serviceman motivated by hatred against the Army," the father says.
Artyom's mother, Karine Aghbalyan, had lodged an objection to the military prosecutor's office before the verdict was brought demanding to preserve the announced punishment, being sure that the sentences would be diminished even in case of a guilty verdict.
"Judge Aghasi Mkoyan quickly read the verdict and simply escaped from the court hall," says Karine. "I approached the accuser Arman Mazmanyan and told him, 'You killed my son for the second time'."
Initially 15 army men were accused of Sargsyan's death, including his unit commander, five medical attendants and regular soldiers.
Unit commander Andranik Sahakyan served a year in detention for his part in the crime. The court found that he should be freed for time served.
"This is a person who did not allow the post-mortem of my son by delaying it, as he had no time to repair the room where my son was beaten to hide the traces," says Rafael Sargsyan.
"This boy who drove my son to death was set free. So it is possible to beat a person to death with a group and then justify saying that he helped the investigation to detect the crime and set him free," complains Karine. "Instead of that they arrested a boy who in fact had the least part of guilt."
The parents say only through bribery would such a verdict be reached.
"The more money you give the less severe punishment you will get and vice versa," says Karine, who alleges that Karapetyan received no prison time because his father is a tax officer.
The five military doctors were found not guilty even though their testimony that Sargsyan died of an infection contradicted forensic reports of numerous wounds and bruises.
The forensic report also found that Sargsyan's death was due in part to delayed treatment. (For 36 hours he was kept in isolation, where he died.)
During the trial, nurse Gayane Mkoyan testified that:
"Artyom was shouting to either give him an effective anesthetic or 'hit my head with something and kill me'. However, nobody helped him. When I told the head of the hospital about that, he responded, 'He is a soldier, he will bear it'."
The president of the Helsinki Association of Armenia, Michael Danielyan, says his organization will prepare an appeal to the Court of Strasbourg which deals with human rights issues and is a right afforded members of the European Council.
"The verdict that was brought by the court was not unexpected for us," Danielyan says. "And the fact that the prosecutor's office protects interests of the defense side and not the opposite is the most popular practice in Armenia."