For six months "Tamar" didn't tell her family about the event that shook her soul and psyche. Nor did she tell authorities until she felt enough time had passed to be out of danger.
Even now, she speaks publicly about her nightmare only on condition that her real name not be used nor her face shown.
Just last month, the 23-year old woman from Yerevan filed a formal report claiming she was held against her will in the Baku airport last April 27 while on her way from Dubai to Russia.
While enroute to Nizhni Novgorod from her job as an assistant manager in a Dubai hotel, the Russian airlines craft carrying Tamar and about 35 other passengers and crew landed at Bina airport, part of its normal route.
The flight routinely stops for refueling in Baku, but never before had passengers been asked to disembark from the plane while on the ground in Azerbaijan.
Being Armenian, she was nervous to be on "enemy" soil but didn't expect what followed.
"I was blond and I thought probably this fact would make them think that I wasn't Armenian," she recalls. "In the beginning I wanted to stay in the plane, but stewardesses didn't let me stay. I also tried not to show my passport, but I heard a voice saying from behind: 'Check all passports and number of passengers'. "
An Azeri official checking documents looked at Tamar's passport, then left his post. He returned with a group of men and Tamar was told: "You won't depart."
The frightened girl asked why she would not be allowed to leave, but got no reply.
Crew members knew Tamar because they stayed at the hotel where she worked. They tried to intervene in the matter, but were ignored as she was taken away to a separate room.
There, she says, about 15 to 20 Azeris in military and civil aviation uniform began questioning and threatening her.
She says they threatened to kill her because, according to them, an Azeri had been killed in the Yerevan airport. (No such incident has been reported.)
"They told me that according to the Azerbaijani legislation I was their hostage and that according to the same law no Armenian had a right to be on the territory of Azerbaijan.
"They made fun of me, threatened and cursed me. They were telling me that after the plane's departure they would rape and slaughter me. Or they would exchange with Azeri captives. They told me that this was my choice.
"My hope was that the plane wouldn't depart without me and this more or less supported me. I asked them what was my fault, what have I done? Only because I am Armenian? The answers were followed by cynical and impudent expressions.
" 'You don't understand that this is the end for you', they were telling me. My impression was that they finally got their victim and would pay revenge.
Each of them had antagonism towards me personally. The hostility on their faces was terrible."
Two women in military uniform entered the room, Tamar says, and made threatening comments toward her, blaming her for Azeris killed in Karabakh.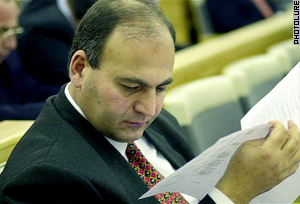 She says the only reason she was not harmed was because of the Russians showing their support outside. The flight crew told the officials it would not depart Baku without Tamar.
After about 90 minutes, Tamar says, she was taken from the first room to another, where three older men of higher rank than the others put some documents in her passport and told her that she was officially their hostage.
She says the men said they would rape and kill her and that they were just waiting for the plane to depart.
Outside, Tamar heard a crew member, Alexander Puhov, tell the airport officials he would make an international scandal if the girl was not allowed to go.
More than five hours had passed since the plane landed. Tamar was told to go and tell the others goodbye. Stewardesses started screaming hysterically, she says, and passengers were shouting.
One of the Azeris approached Tamar and suggested that if she paid $1,000 she would be set free. She started digging in her purse, but had no money.
The passengers and crew came up with $200, gave it to the Azeris, and the girl was set free.
Before allowing departure, the officials entered the plane and searched everyone's luggage. One shone a light in Tamar's face and cursed her she said. And another told her: "This time you were lucky, but not next time."
"Everybody started to cry when we were finally in the air," she says. "Two men from the crew couldn't hide their tears. 'We have never had such a feeling of horror,' they told me. I lost my ability to speak, and I couldn't speak and communicate to people for a few days."
From her purse, Tamar takes a notebook onto which she had written phrases to communicate because she was so shaken she couldn't talk. "I'm sorry, I cannot talk. Please don't force me to talk, I'll talk when I can," the phrases written in Russian say.
Tamar has returned to stay in Yerevan since her Dubai work contract expired. In November she told her story to several different government and international organizations.
Hovhannes Hovhannisyan, head of the National Assembly Committee on Foreign Affairs, says Armenian delegations that are engaged in foreign policy will file complaints concerning Tamar's story.

"We should pursue this issue and it must get a serious response from international organizations, in order to prevent further similar incidents," says Hovhannisyan.

A spokesperson at the Ministry of National Security says the Ministry is aware of Tamar's claim, and has notified appropriate agencies.
As Armenia and Azerbaijan do not have diplomatic relations, the only avenue of investigating the incident is through different international human rights organizations.
Eldar E. Zeynalov, director of the Human Rights Center of Azerbaijan was in Yerevan this week and told ArmeniaNow that the incident had been reported in Baku media, but without any of the details that Tamar has presented since.
"The fact is that the person was kept there illegally," Zeynalov said. "We didn't follow the case as far as she was set free quickly."
Zeynalov asked for a a copy of Tamar's complaint and says his organization will pass it to the Azeri media.
"I consider the incident as inadmissible and needing conviction," says Viktor Dallakyan head of the Committee on State and Legal Issues, who within the framework of Black Sea economic cooperation (Azerbaijan is member of the cooperation) is head of the Armenian delegation.
"This is a gross violation of human rights and the Azerbaijani authorities had no right to treat a citizen making a transit trip in that way. No one has the right to (take someone hostage), irrespective of interrelations between the two countries."
Meanwhile Tamar says she doubts she'll ever forget those hours in Baku. She says she was so shaken that she didn't even tell her parents, until she had decided to take her complaint to local authorities.
"I did not know what to do," she says. "On one hand I was afraid of a clamor raised around me. On the other hand it was difficult to live with such a spiritual state. Besides, I needed time to recover from the hard psychological condition."