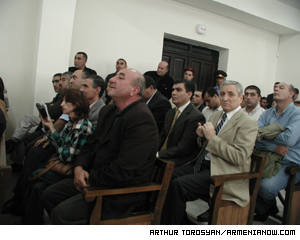 Full courtrooms have followed the sensational case.
The trial in the murder of journalist Tigran Naghdalyan has intensified, with sessions now being held four days a week.
Five of 13 defendants have been questioned so far. (Click here to read previous reports.)
This week, defendant Gegham Shahbazyan, testified that he had met with Liova Harutyunyan, whose child is the god-son of Armen Sargsyan. Sargsyan is the brother of slain Prime Minister Vazgen Sargsyan, and has been accused of ordering the killing of Naghdalyan, allegedly offering $75,000 to have the journalist killed.
Shahbazyan told the court about his meeting with Harutyunyan in a room where photographs of Vazgen Sargsyan hung and where every day Harutyunyan lit candles to the Prime Minister's memory.
According to Shahbazyan's testimony . . .
Harutyunyan said: "What should I do to take revenge for Sparapet (Vazgen Sargsyan)?" And then he addressed Shahbazyan: "Can you bring people from Karabakh so that they could kill one of the organizers of the October 27 incident, Tigran Naghdalyan?"
Harutyunyan accused Naghdalyan of providing guns and floor passes for Nairy Hunanyan and his gang, who entered Parliament and killed the Prime Minister and seven others on October 27, 1999.
To have Naghdalyan killed, Harutyunyan offered to sell his small restaurant for $30,000.
Shahbazyan: "What if they (the killers) want to have cash money?"
Harutyunyan: "Okay, if I'm in trouble with money then I'll ask my godfather (Armen Sargsyan) for money."
Shahbazyan: Is it your godfather, who wants (the killing)?"
Harutyunyan: "No, I want it."
A few days later Harutyunyan changed his mind and told Shahbazyan to forget about their conversation.
Later, Shahbazyan met with Hovhannes "Aper" Harutyunyan (a relative of the Sargsyans) and told him about Liova Harutyunyan's offer, and added that there were people who would commit the murder for $50,000.
A few days later Aper told Shahbazyan: "Do it. I'll take care of it."
Between September and the day of the murder, December 28, Aper spent about $10,000 on provisions for Shahbazyan, defendant Felix Arustamyan and John Harutyunyan, of Martuni Karabakh, who has confessed to killing Naghdalyan.
But after the murder, when no more money had been paid, Shahbazyan asked about getting the money and Aper told him that Armen Sargsyan would come up with the money.
Shahbazyan relayed that information to Liova Harutyunyan. Harutyunyan talked to Sargsyan and Sargsyan said he didn't know about any such arrangement.
Shahbazyan told Aper about this discrepancy and continued to ask for the promised money. On December 30 together they went to Sargsyan's house. Aper entered the house and after returning he gave $25,000 to Shahbazyan.
"Why should Sargsyan pay the money?", a prosecutor asked Shahbazyan.
"I don't know what Aper had told him," Shahbazyan answered. "I haven't understood this part up to now."
Answering different questions of the accuser whether Armen Sargsyan ordered the murder, Gegham Shahbazyan never gave a positive answer.
Gegham Shahbazyan and Hovhannes "Aper" Harutyunyan met two years ago, and cooperated on various deals together. And from time to time Harutyunyan lent money to Shahbazyan. According to Shahbazyan, the relationship was substantial enough for "Aper" to entrust the murder of Naghdalyan to him.
Defendant Grigor Petrosyan, who is accused of assisting in commission of the murder, mentioned in the court that he was in financial dependence on Aper, who from time to time lent money to Petrosyan.
For his part, Petrosyan admits partial guilt, saying that he gave two guns to Shahbazyan that he'd gotten from Aper. Petrosyan said he knew they were going to kill a journalist and that he tried to persuade them that it was not good to kill someone for money but he couldn't prevent the murder.
"My part was to listen, if I were deaf then I wouldn't be here," Petrosyan stated in court, then he refused to give any more testimony.
According to the testimonies given by Petrosyan during the preliminary investigation, Hovhannes Harutyunyan agreed to commit Naghdalyan's murder so that, the "Sargsyans' could accept him as a brave man of his word, plus he could earn money."
It became clear from Shahbazyan's and Petrosyan's testimonies that initially, a gang of Russians had been ordered to kill Naghdalyan. That group was given $50,000 advance payment, but disappeared with the money without performing the crime. According to published testimonies, Armen Sargsyan is implicated in providing the money.
In court on Wednesday, Liova Harutyunyan, accused of concealing a crime, refused to answer any questions, saying that he stands by statements made in the preliminary investigation.
"I don't plead myself guilty of concealment of the murder. I concealed none of the defendants present here. I didn't give any clothes to anyone, I didn't feed anyone, I didn't cover up any traces and I didn't assist and conduce to committing the crime. But I'm guilty that in the beginning of January 2003 I knew from Gegham Shahbazyan about perpetrators of the crime and didn't inform law-enforcement bodies about that."
During the record of the testimonies given at the preliminary investigation Harutyunyan said that he thought about informing law-enforcement bodies about the crime and get $250,000 for that, however, he was afraid of being stamped as a snitch.
Liova Harutyunyan says he was motivated by loyalty to Vazgen Sargsyan and thought that the murder of Naghdalyan would avenge the Prime Minister's death. He said that later he realized that he was wrong, and gave up the idea.
Thursday and Friday's sessions were put off at the request of Hovhannes Harutyunyan's lawyer, Hoctember Karamyan, who said he felt ill.
Trial will resume on Tuesday with testimony from Hovhannes "Aper" Harutyunyan, after which Armen Sargsyan is scheduled to testify.