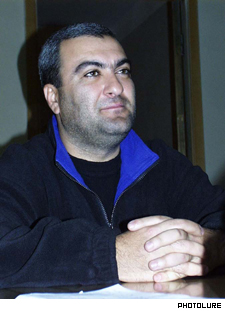 Sargsyan appeared self-confident and relaxed, flamboyant even.
Armen Sargsyan, brother of the murdered Prime Minister Vazgen Sargsyan, was called to testify this week over his alleged involvement in the killing of the head of Armenian Public Television.
Sargsyan, who is accused of ordering the murder of Tigran Naghdalyan for $75,000, declined to make a statement directly (YES?) but instead asked the court to play a video recording of his interrogation during preliminary investigations when he was arrested in March.
In testimony given before his arrest on March 15, Sargsyan said he did not give money to his distant relative Hovhannes "Aper" Harutyunyan, who is a connecting link between Naghdalyan's alleged killers and the person said to have ordered it.
On the video record played in court, Sargsyan said he had known about Naghdalyan's murder for the first time on December 28, 2002 from TV. Two days later, he was surprised to receive a visit from "Aper", whom he had not seen for a long time.

"Aper" told Sargsyan that some goods he had purchased from Beirut, Lebanon, were stuck in Georgia and he needed $30,000 to get them through customs. Sargsyan said initially that he did not have such money, but later gave "Aper" $25,000 and the latter promised to return it within a month.
"Aper" visited Sargsyan's house again during the New Year holidays, but they did not discuss Naghdalyan's death. On January 15, Liova Harutyunyan (father of Armen Sargsyan's godson) visited Sargsyan's house and said that "Aper" and Gegham Shahbazyan had been linked to the murder of the journalist. He tried to find out from Sargsyan whether he had promised to give money for this killing through "Aper".
"When I heard that "Aper" had something to do with that murder I was surprised very much," said Sargsyan. He said he told Liova, "let them go and take money from those who ordered the murder."
After turning Liova Harutyunyan out of his house, Sargsyan said he suspected that "Aper" had taken money from him to pay the killers. "Aper" came some time later to the Ararat Canning Factory where Sargsyan worked and told him: "We must give those people money so that they could leave us alone."
He allegedly told Sargsyan that the killers would kill both him, Armen and his family unless they paid. Sargsyan paid $15,000 and on February 28 he gave "Aper" an additional $35,000.
In the court, Sargsyan said that he had been involuntarily involved in the affair principally as a result of "Aper's" lie and then as a consequence of blackmail.
He offered to answer any questions. But prosecutors refused to cross-examine him, claiming they could not see any discrepancies in Sargsyan's testimonies.
Only the victim's sister Karineh Naghdalyan addressed questions to Sargsyan.
Naghdalyan - Do you think it is a fair step and a display of bravery to pay $75,000 to criminals and cover up the murder?
Sargsyan - I perfectly understand your position because I've been through it for four years. If I was about to order Naghdalyan's murder then I would do that only in case he had given testimonies on "27th" case or I was not so stupid to order the murder without paying for it in advance especially as I have money (Aram Sargsyan shares the same opinion, "Armen's watch costs $70,000 if he decided to order the murder then he would give it at once," he said). I'm not a coward but I had to pay and I didn't think was it a bravery or not. I was taking care of my family's safety and for that I was ready to give as much money as they required. I was worried especially about my brother (Aram Sargsyan), who was in Yerevan and anything could happen to him.
Naghdalyan - If you have so much money why didn't you hire many bodyguards for ensuring your family's security and solving that crime?
Sargsyan - Then how could I explain it to my relatives. I would have never wished them to be involved in this dirty affair, which I had already become involved in. I didn't know I would finish like this.
Naghdalyan - Then why after they were arrested didn't you say who the murderers and conspirators were? You think it is a fair deal?
Sargsyan - I didn't think proceedings would be instigated for things I haven't done. From the victim's perspective, yes, it's not a fair deal. At the same time I couldn't give testimonies against my relatives (meaning "Aper" and father of his godson) without knowing the core of the incident. You know, like you, I think about all those who knew about Vazgen's murder and didn't tell anything.
Hovhannes "Aper" Harutyunyan's lawyer, Hoktember Karamyan, also questioned Sargsyan. He expressed anger that investigators had shown his client's testimony to Sargsyan during questioning.
Karamyan asked Sargsyan why he hadn't testified at the beginning that "Aper" was threatening him to get money from him.
Sargsyan said that he didn't think "Aper" would testify against him. However, when the investigator told him what "Aper" had said, he decided to tell the truth.
Judge Aramyan asked one question: "What was the reason that your relatives gave such testimonies against you?"
Sargsyan replied: "Liova Harutyunyan didn't give testimony against me before April-May. His first testimonies are more correct. In general, all testimonies given before May are 75 per cent true. I presume, but I won't tell, what made Liova testify against me in May and say that I ordered the murder."
Karineh Naghdalyan also gave testimony. She said that her brother was in the habit of visiting his parents every day. At 18:30 on December 28, he went to their second floor apartment on Zakyan Street and left 30 minutes later. His father saw him out of the apartment and turned on an outside light to help him see the way down.

A few seconds after closing his door, the father heard shooting and ran outside to find his son covered with blood lying on the first floor staircase. Together with his brother, they took Naghdalyan to the nearest hospital, but doctors were unable to save him.
Defendant John Harutyunyan, who confessed in the court, that he had shot Tigran Naghdalyan from the front, asked Karineh Naghdalyan what doctors had told them when they were in hospital.
"We were not in a state to ask doctors questions," she answered.
Harutyunyan was hinting at a forensic document given by doctors at the hospital. Information given to journalists about the victim's wounds is included in the document, stating that Naghdalyan was shot in the back and not from the front, as Harutyunyan says.
Experts of forensic medicine will explain these questions next week. The trial continues.


Or click here for previous stories on the case.