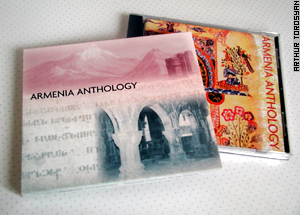 The musical group Shoghaken Ensemble has won Best Traditional World Recording from the Association for Independent Music (AFIM) and National Association for Recording Merchandisers (NARM) for its CD "Armenia Anthology".
The Armenian group was named winners during an awards presentation March 18 in Orlando, Florida where AFIM gave awards in 38 categories.
The CD is 19 songs, recorded by Traditional Crossroads (www.traditionalcrossroads.com) of New York City.
(Click here to read a feature about the group.)
"I am very excited with this unexpected luck and it's a pity that abroad our CD is very popular but here in Armenia it hasn't even been presented," said Hasmik Harutyunyan, vocalist with the group.
It is the fourth time Traditional Crossroads has won an AFIM award, which are considered the smaller label version of the Grammy Awards.
Last July Shoghaken participated in a Smithsonian Institute-sponsored world festival in Washington D.C. The group (www.roadtoarmenia.com) is planning a U.S. concert tour next year.