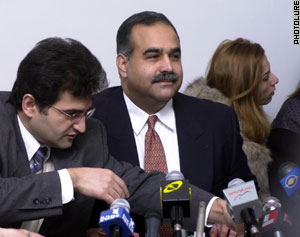 When the Central Election Committee registered 11 Presidential candidates last Wednesday, former Minister of Foreign Affairs Raffi Hovannisian was not on the list.
Last week a lower court ruled that Hovannisian has not held Armenian citizenship the required 10 years for eligibility to run for President.
And, as expected, the court ruling has renewed a long-standing debate over whether President Robert Kocharyan, a citizen of Karabakh, has legitimate claim to run the country.
"My decision to be a citizen of Armenia and to live in my native country was significant for me, and for all my life" said Hovannisian, formerly a U.S. citizen who has claimed that he applied for citizenship in 1991 but that his application was left unanswered for years.
"I believe and expect that the court of appeal will restore my rights and that, according to the law, the Central Election Committee (CEC) will register me as a candidate for the presidential post."
The appeals court was to hear Hovannisian's case today (January 20) and a decision is imminent.
"I with my associate will be participating in all political processes taking place in Armenia," he said in a press conference this week.
After serving as Armenia's first Minister of Foreign Affairs, two years ago Hovannisian founded the Armenian Center for Strategic and National Research. In August 2001, Hovinassian gained Armenian citizenship, but has argued that his right to be a Presidential candidate should be based on his earlier application for citizenship.
"We realized that we dealt with a power decision that had been developed in the pre-election staff of the President," Hovannisian said, adding that the judge and others involved in the decision against him were "toys" of the current administration.
Prior to the lower court's ruling, the President's press secretary Vahe Gabrielyan had told the press that regardless of the court decision Hovannisian could not be a candidate because the verdict would not be in legal force until after January 20, the final day for registering candidates.
"Concerning the statement made by the press secretary I can say that it is a result of a lack of knowledge concerning the law," said Vardan Poghosyan, Hovannisian's attorney, "and is the wish of President Robert Kocharyan to leave one of the best candidates out of the competition by all means."
(Though January 17 is the last day for registration, any would-be candidate who is left off the list has three days to appeal the CEC decision.)
The session of CEC concerning registration of the candidates took place earlier than was expected. Hovannisian's application was not approved on the basis that information from the passport office said he has been a citizen since August 2001.
Seven members of the committee voted against registering Hovannisian. Two members of the committee, who voted for registering Hovannisian (they represent oppositional parties), disputed the decision and raised questions of Kocharyan's 10 year citizenship and 10 year residence.
"We are sure that a court would satisfy our appeal in any legal country," Poghosyan said. "As I know well enough the Armenian legal system I'm not optimistic regarding this fact."
The lawyer went on to say that the court's ruling against Hovanissian makes it "questionable" whether the February 19 election will be "free, just, transparent or corresponding to the European standards."
Poghosyan, a political scientist and specialist in constitutional law, says his client applied through lawful means for citizenship but his right of citizenship was violated.
He says that in Kocharyan's case the violations are obvious, stating that the President was never a citizen of Soviet Armenia (as Karabakh was part of Azerbaijan) and never presented application for getting citizenship.
Robert Kocharyan, Hovannisian claims "knows that in case of free and just elections results will be 80 percent to 20 percent, and not in his favor."
While it is not expected that the appeals court will overturn the lower court ruling, such a decision isn't likely to end Hovanissian's political life (though he would not be eligible to run for President until 2013).
It is expected that Hovannisian would endorse one of the oppositional party candidates, though for the time being he hasn't said who he would support.