On Election Day, Wednesday, a woman named Louisa who lives in the Arabkir area of Yerevan received a knock on her door and was offered 5,000 drams (about $8.60) if she would sign an agreement to vote for President Robert Kocharyan. She was also offered a ride to and from her voting precinct station.
The campaigners took Louisa's name and passport number. Louisa took the money and the ride.
"One way or another I was going to vote for Kocharyan," she said later. "But the money won't do any harm."
Actions such as money for votes were among accounts of violations leading a collection of foreign monitors to conclude that the first round of the 2003 Presidential election did not meet international standards of a democratic election.
A proxy of Stepan Demirchyan complained that at poling station 260710 in Echmiadzin at about 8:30 a.m., when around 30 votes had been cast, a group appeared and put more than 80 pre-marked ballots into the box.
The accusation was recorded by a team of foreign observers on the site and similar violations were reported in three other Echmiadzin stations around 6:30 p.m.
At School No. 2, Elena Paronyan, a proxy of the Armenian Communist Party reported that a group including MP Hakob Hakobyan, and Robert Kocharyan's local campaign manager Hrachik Abgaryan, who is also the Mayor of Echmiadzin, "surrounded the electoral box. Whoever you complain to, they shut your mouth. They did their job laughing and went away."
At another site a proxy, who wished to remain anonymous, says about 30 "broad-shouldered men" surrounded the electoral box in three rows, and "the number of electoral papers they put into the box corresponds to the number of people registered in Armenia but living in other countries. They did their calculations in advance."
Complaints were made to Electoral Commission president Artak Sahradyan who said: "They went out and left without saying anything. I did not prevent that. What should I do?"
The editorial office of ArmeniaNow received a call from School No. 172 in Yerevan that a man took a bundle of ballots from underneath his coat and put them in the ballot box. At that location Demirchyan proxy Kamo Avetisyan claimed that about 200 false ballots had been cast.
Anna Arzakanyan, an observer with the Non-Governmental Organization "The Choice is Yours" said she witnessed the ballot box stuffing and that police on the scene did not intervene though they were allowed to. Electoral Commission representative Lianna Mkrtchyan says she was talking and saw nothing.
Five Opposition candidates signed a letter to the Electoral Commission, citing 10 violations, including charges that names of the deceased were included on voter registration lists.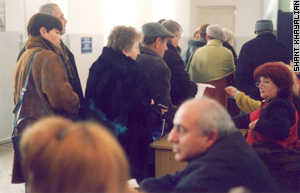 The letter also alleged that a group of young men in the village of Ohanyan tried to stuff a ballot box and when they were stopped, stole the box.
Candidate Vazgen Manoukyan assessed the process of elections in 2003 as worse than in 1996 and 1998.
"I have much information," the former Prime Minister said. "There probably were violations such as filling voting boxes in 1996, but that time the majority of violations were made through registrations. This is being organized by the authorities intentionally in order to guarantee the percentage."
Adrine Avagyan, 27, proxy for Manoukyan in election district No. 40, says she was attacked when she tried to interfere with a man who was putting multiple ballots in the box.
"I wasn't able to take the ballots from him," Avagyan said. "He threw me to the ground and continued to beat and curse."
Election Commission member Venera Stepanyan says that at her poling station in Nairy Zaryan school Election Day went smoothly until about 30 minutes before closing time.
At around 7:30 p.m.: "About 20 people gathered and created disorder. They stood near the ballot box. We told them to stay away from the box but they didn't. Then the lights went off and noise was raised."
Nubar Gevorgyan, who was in charge of watching the box said men were trying to take away the ballot box.
"When the lights went off I put my hand on the box but when they pushed me away I didn't see what happened next," Gevorgyan said, showing his hand which had been scraped when the box was pulled away.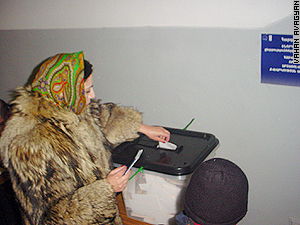 (At an upstairs station in the same school at around 4 p.m. a proxy chased but was unable to catch a man they say put several ballots into the box.)
Sophelia Vardanyan, who teaches Armenian language and was standing as an observer for "The Choice Is Yours", was pushed away by the intruders.
She was crying of insult and trembling of fear following the incident.
"I've been respecting Kocharyan until this moment," she said. "Now he is disgusting to me. How can I register these breaches? I can't write down incorrect information. But I am afraid to tell the truth. Who knows who is who? My son is attending this school. I don't want somebody to hurt him."
Proxies and Commission members opened the box to inspect the wrinkled ballots and found they contained votes for President Kocharyan. It turns out that, although the ballots contained Commission member signatures, the stamp necessary to validate the votes had come from a different precinct.
(On the night before an election, Commission members sign ballots which are then placed in a safe. After a vote has been made, a different Commission member than the one who signed the ballot, stamps the ballot in the presence of the voter, who then places the ballot in the box. It is possible that the men obtained the signed ballots overnight and hoped that the Commission members would only look at the signature and not the stamp. In any case, 150 votes with the wrong stamp were declared invalid.)
Zhanna Antonyan of Yerevan says that neither she nor her 25-year old daughter's names were listed on a voting register, but that her husband, who died seven years ago, was.
She said she would not bother with going to the court to have her name restored.
"I'm really tired of doing this every election," she said. "Let them do whatever they want with my vote."