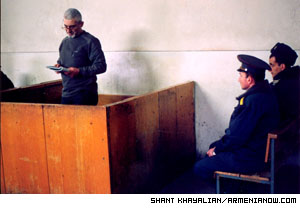 The defendant makes his case in court..
Former National Security Service lieutenant colonel Levon Abrahamyan has been sentenced to six years in prison for conspiracy to commit murder last September of Minister of Defense Serj Sargsyan.
After five court sessions, Judge Ruben Nersisyan found Abrahamyan guilty of trying to kill Sargsyan by blowing up the Minister's car. Abrahamyan was caught with an associate, Araik Narimanyan, possessing explosives believed to be destined for Sargsyan's car. (Sargsyan was out of the area at the time.)
Aassociates testified that Abrahamyan had planned to kill Sargsyan as revenge for conflicts between the two when Abrahamyan served under Sargsyan at the National Security Ministry. In 1998 Abrahamyan was sentenced to eight years in prison for another crime. He was given a presidential pardon in June 2002.
A prison mate, Narimanyan, testified that Abrahamyan had planned to murder Sargsyan. Narimanyan had informed authorities, who subsequently secretly recorded and videotaped Narimanyan and Abrahamyan conversations.
Abrahamyan did not deny a murder plot, however he insisted that Narimanyan was the organizer.
Defense attorney Marina Janoyan argued that evidence against Abrahamyan came from only one source, and that the electronic surveillance was illegal since the measures were taken before any criminal charges were brought.
Abrahamyan testified that when he was taken custody on September 15, the head of the investigation department of the General Prosecutor's Office, Andranik Mirzoyan "was exhorting me to tell that there were people who ordered me to organize the murder." Abrahamyan said the prosecutor offered to "put in a good word for me" if he implicated others, claiming that Mirzoyan said: "If it becomes clear that you did it alone then you will be skinned alive and your family will be subjected to repressions."
Specifically, he says he was encouraged to implicate oppositional party leader Artashes Geghamyan.
Latter Geghamyan, leader of the National Unity party, responded to the testimony:
"Attempted murder against Serj Sargsyan was organized by authorities with the prefabricated purpose of shuffling off the blame on to me," the one-time presidential candidate said.
"When we carefully analyze what had happened with Samvel Babayan (serving time for attempted murder of NKR president Araky Ghoukayan), Tigran Naghdalyan and Levon Abrahamyan, then we come to a simple conclusion that Robert Kocharyan and Serj Sargsyan stand behind all these incidents. They sent people who committed these crimes and perpetrators are their agents."