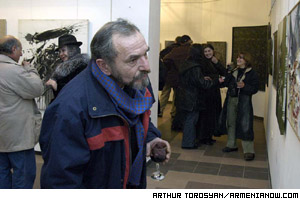 Akanat art gallery presented works of Armenian abstract artists..
A new exhibition of paintings has opened at the Akanat art gallery, tracing what it calls "trends of development of abstractionism in Armenia ".
"It's true that some paintings are sold but first of all these exhibitions are of cultural importance as they present the history of Armenian abstractionism," says the director of the art gallery, Ani Sukiasyan.
"The majority of paintings have been brought here from private collections and different museums. Many paintings were buried under layers of dust in the basements."
Paintings by 30 artists spanning the 1960s to the present day are exhibited at the gallery, including works by man considered to be the father of Armenian abstractionism, Seiran Khatlamajyan.
It seems impossible to find sense in non-figurative paintings. The only definite thing in the paintings is the names, like Karo Mkrtchyan's work with two painted parallel lines called 'Boundlessness'".
Anyway some of visitors search for meaning. Roza Gharibyan, a student, stands before two untitled paintings by Mkrtich Matevosyan, one painted black and the other full of light and white shades.
"The world was created after the darkness. The light gradually rises and in the next painting the world is already illuminated," she says.
Abstract art started on its path in Armenia during the thaw under Khrushchev's regime in the 1960s, which allowed some social freedoms. However, abstract paintings were not shown at art galleries and exhibitions.
Art critic Nazareth Karoyan says that abstraction was a form of opposition to social realism and was regarded as cultural dissidence in Armenia . Abstractionists were not persecuted, however they were treated with indifference and their paintings were not exhibited even in the Contemporary Art Museum .
After the collapse of the USSR , when there were no longer any problems connected with dissidence, many painters could not find their place in the new conditions of life and left Armenia . Works by painters such as Kiki, Ashot-Ashot, and Black Hendo are exhibited here in their absence.
"When Khrushchev gave freedoms it became clear that there is a border that painters cannot cross," says Karoyan, " Moscow did not draw that border. The border was inside painters.
"It was a border separating figurative from non-figurative and only a few painters managed to cross it. The issue of abstraction has already changed not only here, but in the entire world. It has become a part of design and production. And it is no mere chance that abstractionists (Vigen Tadevosyan, Mkrtich Matevosyan) became the founders of modern polygraphy here."