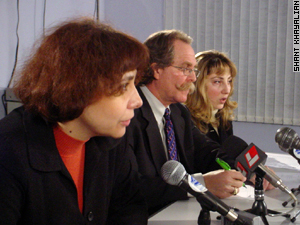 Internews, a United States government-sponsored media development program is calling upon Armenian journalists to "arm themselves with courage and objectivity for these last difficult days of the electoral campaign".
At a news conference today in Internews' Yerevan headquarters, Chief of Party William M. Canter and managing director Nouneh Sarkissian told journalists their agency is troubled by episodes of intimidation, physical attacks and destruction of recording equipment inflicted on the media during the Presidential Election.
"These incidents are a serious setback to the progress of civil society in Armenia," Canter said. "I'm deeply concerned that the development of a free, unbiased and objective media is being gravely hindered."
Veteran Armenian journalist Sarkissian called last week's Presidential elections "a step back" for democratic principles, saying that the efforts of journalists were more restricted this election than in previous ones.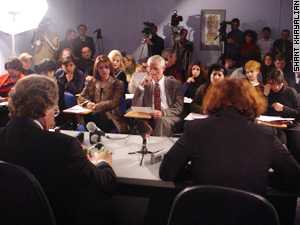 "Every time when we switched the channels we could only find biased information and to feel a sense of shame," Sarkissian said. "We got confused realizing that the reality is not being reflected in an adequate way."
An Internews statement was released to about 40 journalists attending the press conference in which the agency calls elections a "test of the mass media's professionalism . . . Armenian media, broadcasters in particular, did not pass the test in February 2003."
While critical of the media performance Sarkissian said the purpose of the meeting was not to accuse journalists, but to find ways to improve their performance.
"Our mission in Armenia is to strengthen independent media and work to allow all journalists an editorial environment that encourages the professional, objective and honest dissemination of information," Canter said.
Much of the hour-long meeting centered on one of Internews' own television programs.
Each week Internews produces "Ditak" (Spyglass) a 20-minute news program that focuses on one topic from what project assistant Tatevik Oganesyan called "an eyeglass, a magnifying glass, then a microscope".
Part of Internews presence in Armenia is to produce "Ditak" and distribute to 23 stations throughout the country. Last week's program focused on alleged election fraud and included video interviews of voters' accusations, including one group complaining that they were offered up to 10,000 drams (about $17) each for their votes, but then were not paid.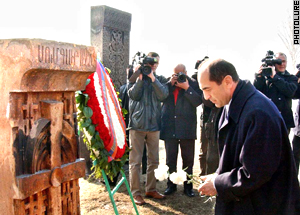 (Click here to see portions of the videotape)
Internews says it has agreements with all 23 stations to air "Ditak" each week. But last Sunday, Shant, generally considered to present pro-government programming, refused to air the program.
Internews producer Armen Sargsyan says his program was the 66th edition of "Ditak" produced since November 2001 and is the first Shant has refused to broadcast.
Artur Yezekyan, Director of Shant TV company told ArmeniaNow his company refused to air the program because it was slanted.
"The program from its beginning to the end was biased and partial," says Yezekyan. "There were presented only one-sided comments without referring to the other side."
In other election-related news:
More campaign-related arrests were reported today. In the Shengavit district at least three people are being detained for 15 days.

Head of the Regional Council of Shengavit, Edik Madatyan, who was arrested February 22 as part of the police enforcement of illegal public demonstration, had to be taken to hospital with a bleeding stomach ulcer.


Russian television channel NTV, which broadcasts in Armenia, went off the air as it was broadcasting coverage of anti-government demonstrations Wednesday night. The National Commission of Radio and TV says the channel is having transmission problems with its Armenian feed. The channel has been dark since Wednesday, but is expected to be restored.


Wednesday, the Opposition announced it would hold a campaign rally Saturday at the Institute of Manuscripts. Yesterday, the Dashnakstutyun Party ("Dashnaks"), one of the oldest parties in Armenia and supporters of President Robert Kocharyan, announced a counter-demonstration for the time at the same place.

But today, Aghvan Vardanyan, head of the Dashnak Party in Parliament, told ArmeniaNow that together with other parties supporting Kocharyan, a decision would be made tonight on whether to hold concurrent rallies.


Yesterday Kocharyan visited various campaign headquarters. Today both he and his opponent, Stepan Demirchyan, went to Tsitsernakaberd monument to pay honor to those who died 15 years ago during pogroms in Sumgait, Azerbaijan which was the flashpoint of the war in Karabakh.


Former Minister of Foreign Affairs and would-be Presidential candidate Raffi Hovhannisian appeared in court today, asking that his citizenship status be reconsidered. The U.S.-born Hovhanissian, was granted Armenian citizenship in 2001, but has argued that he was illegally denied citizenship when he first applied in 1991.

Earlier this month a court ruled Hovhannisian ineligible to stand for President, as he did not meet the 10-year citizenship requirement.

A court is expected to rule on his latest motion in a week.
(ArmeniaNow reporters Zhanna Alexanyan and Vahan Ishkhanyan contributed to this report.)