Tennis (WTA/ATP rankings)
Two women tennis players of Armenian heritage have finished their participation at the WTA tournament taking place in Leipzig, Germany this week.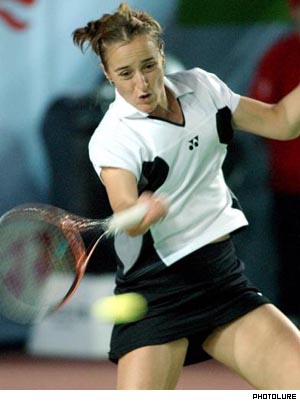 Magdalena Maleeva.

Magdalena Maleeva from Bulgaria lost 6-7, 4-6 to Sandra Kleinova from Czech Republic in the second round while Marie-Gayaneh Mikaelyan representing Switzerland retired from the first round against Alexandra Stevenson from USA.
For the present moment Maleeva is holding 12th place in WTA rankings with 1,733 race points. Mikaelyan is in 35th place with 881 race points.
In ATP rankings tennis players of Armenian heritage hold the following positions:
Sargis Sargsyan from Armenia takes 48th place with 120 race points after 23 tournaments. David Nalbandian of Argentina with 358 points and 17 tournaments played holds 8th position and finally Andre Agassi representing USA is fourth best player, with 605 race points and 16 tournaments played.

---
Chess (U10 European Chess Championships)
Ten year old Samvel Ter-Sahakyan from Vanadzor won the Under Ten European chess title at the championships taking place in Montenegro.
He has won seven games and played two draws collecting eight points out of nine possible (one point for victory and 0.5 points for draw).
---
Football (FIFA rankings)
According to FIFA/Coca Cola World Rankings, Armenia with 415 points has moved up and now takes 103rd place in the world of football among 204 countries.
Since December 2002 it moved up eight positions while since August 2003 it has moved up for four positions.
Brazil is first, with 855 points.