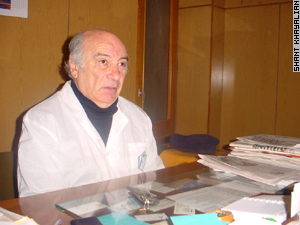 After many years of research and tests Armenian scientists at the Institute of Fine Organic Chemistry have developed compounds they believe will become an anti-tumor and anti-infection medicine.
For this and other significant research, the Institute was awarded a Napoleon Bonaparte Gold Medal by the Societe D'Encouragement Pour L'Industrie Nationale of France for its cumulative research in recent years.
And head of the Institute, 65-year old academic Bagrat Gharibjanyan, was awarded the German Paul Erlikh Gold medal and Russian Vernadski Silver medal for exceptional scientific services, and a Gold medal from SDPL.
"There are very few scientific centers in the world which implement all the steps starting from synthesis of the medicine to its production," Gharibjanyan says. "The advantage of these institutions is that all the parts of the process are combined in the same place. We have chemists, biologists working here; experiments and technological investigations are also done here."
According to Gharibjanyan, of the Institute's 18 possible elaborations, it is believed that compounds exist to aid in anesthetization, dilation of vessels, regulation of cerebral blood circulation, peripheral dilation of vessels and anti-tumor substances.
"Pre-clinical tests of some of them are near to end, three of them need to pass a few-year clinical tests stage," he says. "Naturally, we are trying to create such medicine that are better than the previous ones, are of little harm for the organism and accessible to patients."
The Institute was founded in 1955 by academician Armenak Mnjoyan and since has worked toward creating medicines.
The Instistute, Gharibjanyan says, has developed medicines that have been used in the treatment of ulcers, bronchial asthma, Parkinson disease, blood pressure, typhoid fever, dysentery, epilepsy and others.
"Every medicine produced by the institute is provided for the efficient treatment of several diseases," says Gharibjanyan.
But after the collapse of the Soviet Union, the successes of the Institute stopped. These days as a result of not having a patent the Institute is prohibited from exporting production of drugs to the international markets.
Further, Gharibjanyan says, the process from raw material to synthetic drug these days cost more money than was spent during the entire pharmacology history of the USSR.
In USA only one preparation is taken for preclinical tests out of 250,000 synthesized preparations. Then only one of five preparations can be taken for clinical tests and only one of five preparations that passed clinical tests can be brought into life.
"If we multiply all of that it will become clear what kind of extensive researches must be conducted to create a drug," says Gharibjanyan. "Our financial state doesn't allow us to conduct researches like that, however, guided by the appropriateness that we established, we conduct purposeful syntheses, which don't require big expenses."
But the award-winning scientist says his Institute's work is largely ignored by companies that could be beneficial to the Institute's future.
"It hurts that competitive companies don't consider it expedient to cooperate with us fearing to acquire strong competitor and fearing to lose the right of monopolist. The way out is either to enter Russian markets by means of cooperation or to find a donor."