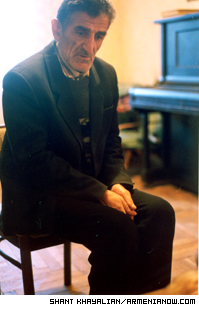 ". . . gradually giving up." .
The Babayan family doesn't know how it will heat its apartment this winter. In other years they've been able to save money from the monthly budget of 23,500 drams (about $42) for winter needs, but not this year.
Sixty-four year old Marat Babayan and his three daughters Nazeny, Arpine and Varsenik live in their three room apartment on the outskirts of Yerevan. Varsenik, who has been in fragile health all her life has been more sick over the past year and medicines have been costly.
The Babayans were given the apartment during Soviet times, when the family was bigger. Since, the mother, Raya Sargsyan has died (in 1990). And, since 1995 their son and brother, Vahram mysteriously disappeared from a military hospital soon after being called into the army.
"I don't know what we are going to do," says 31-year old Nazeny. "My father used to bring pieces of cardboard or acquire a few wooden boxes from his work place, in addition to that we would also buy wood with saved money, and would manage to get by that way."
Like many throughout Yerevan, the Babayans gather wood and cardboard wherever they can - from dead trees or from refuse left in the street. But they can never get enough to heat a three-room apartment, so they all gather around a small heater in the kitchen. And they all sleep in one room.
When raising his son, Marat had always thought that by these years he could depend on Vahram to help take care of the family. Now, the family's existence revolves around his absence and its increasing debilitating impact.
Vahram was studying in the Polytechnic Institute. After his mother's death. He went through a long period when he couldn't speak. His sister Varsenik says that he was very sensitive.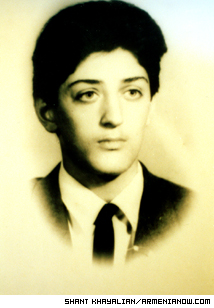 Missing.
"My son was suffering from brain concussion, mental disorders, headaches, hepatitis, swollen liver and bad vision," the father says, showing documents that certify his son's condition. "He underwent treatment at psychiatric and other hospitals."
Military doctors certified Vahram's illnesses, but a military commissar told Marat: "If everybody like your son evades military service, who would be left to serve in the Army?"
From the first day of his conscription, Vahram was in military hospitals. After six months he disappeared.
Everybody in the family is sure that Vahram is alive and will return. Up to this day the family thinks that all their troubles and problems will be solved with Vahram's return.
"Vahram is my only son, he must come back to be a support for me and his sisters," says the father. "I am already old, who will take care of his sisters?"
Ten days after Vahram's disappearance, the International Red Cross visited the Babayans with a letter confirming that the agency had found Vahram in a town in Azerbaijan and that he was seriously ill.
Ten days later the Red Cross went back to take some medicine, but Vahram was not there.
The Ministry of Social Insurance has offered Marat 10,000 drams (about $18) a year to compensate for Vahram's disappearance. Marat refuses it, saying it is the government's way of getting him to shut up about his son.
The organization Against Legal Violence has also reached out. Once, Marat took 4,000 drams (about $7), from them, but has since refused help.
A family waits . . .
"Marat Babayan is an extremely honest person. He always refuses our help, but as years pass, I see him gradually giving up", says Larisa Alaverdyan, president of Against Legal Violence.
Before becoming a pensioner, Marat Babayan was an engineer. Now he works in the laboratory of Yerevan State Engineering University. Before this year he supplemented the family income by buying merchandise and reselling in markets. But this year, eight years into mourning the fate of his son, he has not had the energy for added work.
"Yerevan was built with my hands. I have been working for this country for 49 years, and the only appreciation I was expecting was for my son not to be called up for military service. You took him from me, you get him back," complains the father.
The last official information about Vahram came in October.
"Your application has been carefully investigated in Armed Forces Headquarters of RA. Some inquires have been made to International Red Cross organization as well as other instances about your son Vahram Babayan. The fact of your son being a captive in Azerbaijan has been confirmed. The work directed to that matter, realized by the Ministry of Defense of RA, hasn't given any results yet."
"We have had no news from Vahram for eight and a half years," says Nazeny. "Doesn't the government realize that a man, the bread-winner is missing from the family, how can we live without him?
For information about Against Legal Violence: Call (374 1) 58.28.19; 56.82.72 Email: favl@netsys.am To make a contribution to this family or others in ArmeniaNow's HyeSanta project, click here.