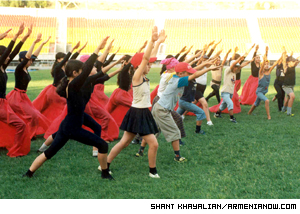 Rehearsals for the Games prepared entertainers to welcome 1,326 amateur sportsmen.
Just a few hours remain before the torch is lit at the ancient pagan temple of Garni to symbolize the beginning of the Third PanArmenian Games.
The torch will be lit tomorrow morning, August 16, and dozens of sportsmen escorted by a guard of honor will carry the torch in relay, covering the 20 kilometers from Garni to Yerevan.
And at 8 p.m. there will be a festive opening ceremony during which the torch together with the flag of Armenia and the PanArmenian Olympic flag will be carried into Yerevan's Hrazdan stadium where the small flame will ignite a big torch to throw light on the Third Olympic Games of worldwide Armenians.
About 1,326 men and women amateur sportsmen from more than 75 cities around the globe are in Armenia for a week to test their skills against their opposing teams of compatriots. About 5,000 guests are expected for the Games.
In just four years since the First PanArmenian Games of 1999, the competition has gained a big reputation among Armenian communities. The Second PanArmenian Games took place in 2001, coinciding with celebrations of the 1700th anniversary of Armenia's adoption of Christianity as the state religion.
"This is another occasion to bring Armenians of the world together in their homeland so that they can communicate more closely with each other and know about their country," says Ashot Melik-Shahnazarian, 71, who had the idea to organize the games.
Melik-Shahnazarian is Armenia's ambassador to Mexico and Cuba (working in Yerevan through the Ministry of Foreign Affairs ) and vice-president of the World Committee of Pan-Armenian Games. Minister of Foreign Affairs Vartan Oskanian is president of the committee.
"Let Armenians come and see their homeland. Let them see that this country lives and blooms day in day out and that construction works are in process here," Melik-Shahnazarian says. "After the last games it was decided to conduct the games every four years, but, after numerous requests we broke our rules just on this occasion."
Badminton is being added for the first time to the program of the Games in addition to nine sport events from the previous competitions: football, mini football, basketball, volleyball, tennis, table tennis, athletics, chess and swimming.
Competition will take place in Yerevan and in the sport complexes of Artashat, Abovian and Ashtarak.
Art director Ashughyan says more than 1,000 entertainers will perform in opening ceremonies.
Yury Alexanyan, press secretary of the Games, assures that highly experienced referees will oversee the contests, a point of contention in some matches during the last competition. But he believes contestants need to raise their game too.
"The level of sport is not high enough here as, mainly, there are no professionals at the Games but amateurs who come to see their homeland," he says. "However, our goal is to make them more inspired and excited so that the Games could be more competitive and they could really struggle for their points."
Organizers will ensure emergency ambulances, security, transportation and communication services will always be on hand at stadiums and in sport complexes to ensure the smooth running of the Games. Great attention has also been paid to the opening and closing ceremonies, which, like the last Games, promise to be full of surprises.
"We attach great importance to opening and closing ceremonies, during which new performances are shown every time and more than 1,000 artists perform," says Hrachia Ashughyan, who is art director of the festivities.
The opening ceremony audience will see a performance based on three pagan historical themes based on pagan stories with performances by 60 solo dancers and a supporting cast of 700 dancers. With music from young composer Vahe Hayrapetyan's opera-ballet Morning Twilight, it is being staged by choreographers Norair Mehrabyan and Vanush Khanamiryan. The main characters of the performance are seven Armenian pagan gods including Vahagn, Tir, Anahit, and Astghik.
This will be followed by sports performances, including theatrical modern rhythmic gymnastics, acrobatics and the martial art, wushu. The Dance of Tulips also promises to be spectacular, with girls dressed in red covering the grass to create an effect of a field of flowers.
The ceremony will finish with compositions of renowned Armenian composer Aram Khachaturyan in honor of the 100th anniversary of the musician's birth. Then the celebrations will give way to competition.