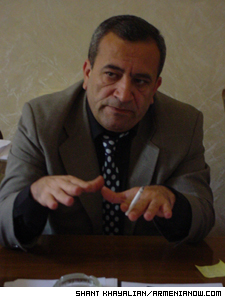 Deputy minister Yesayan says unemployment and poverty are "the same".
Neighbors near Lusine Manukyan hardly notice when an ambulance comes into the yard. Emergency service has been called several times for her and each time the same diagnosis:
"You are completely healthy," doctors tell her.
Still, the 24-year old has shortness of breath, choking, spasms and an urge to simply scream at the anxiety that makes her anything but "healthy".
The young woman suffers from attacks of stress, related, she believes to her inability to find employment
She has been perennially depressed and was given sedatives by a specialist who told her to forget about finding a job.
"I'm a nurse by profession," says Lusine, a resident of Echmiatsin. "However, I couldn't find a job in this field. Later I changed several professions, however, everything was futile. As a result I have only raw nerves and the years I spent in the institute are in vain. Now I don't know what to do, how to find my place in the world and not to think about searching for a job and future abroad."
According to statistical data of the Employment Department of the Ministry of Social Security, in 2002-2003 officially the unemployment rate is nine percent in Armenia. But a mere glance at the idle masses crowding street corners, sitting on benches or in cafes simply doing nothing during business hours is enough evidence that plenty more than nine out of every 100 are jobless.
Social welfare specialists say statistics don't correspond with reality because the official number only represents those who apply to the government for unemployment benefits.
Depending on prior length of service, an unemployed person is entitled to an average government allowance of 3,900 drams (about $6.70) per month for from five months to one year.
"For Armenians unemployment and poverty is the same," says first deputy minister of Social Security Ashot Yesayan. "Before, during Soviet times, there almost wasn't such a problem, however, these days together with changes of life this problem arises."
According to official statistics, currently about 175,000 unemployed are registered in Armenia. They found themselves in such a state as a result of the collapse of USSR, new life requirements, necessity of new professions and a number of other reasons.
One of the main reasons of unemployment is that some professions that prospered in the previous system are no longer required in independent Armenia.
Yesayan says some of the younger generation of workers have prepared themselves for the new reality and that their preparation "has already born fruits".
Economist Hovhanes Apresyan says that one of the reasons of unemployment is low salaries.
"After graduating young people who had been studying in institutions of higher education for years can be valued and, at most, offered a job in some state institution where salaries are extremely low and don't satisfy even expenses for transportation. That's why many people try to find different ways."
"The different way is emigration and search for work abroad," says 65 year old Margusha Avanesyan. "My children left their native land by turns for finding work. Two of them live in Russia with their families and one lives in Germany. But the saddest is that many young people think about work abroad instead of brightening Armenia."
Specialists at the Ministry of Social Security say there is a demand for labor power in the employment market while thousands of specialists and people with higher education don't know where and how find a job.
"I've been looking for work for several years," says Emma Hakobyan, who is a philologist by profession, "however, there was nothing."
She says the private employment agencies which have appeared during the last few years, mainly offer work in the sector of trade and service such as waiter, salesman and in state institutions there are practically no places for work.
"Creation of jobs is one of the main issues of pre-election campaigns of the presidential and parliamentary elections," says Lusine Manukyan. "However, there are no results. Now I'm looking for a profession which maybe will make my stay in Armenia possible and allow me to work here. I don't want to emigrate as dozens of my friends and relatives did. I am sure that I can be useful here."