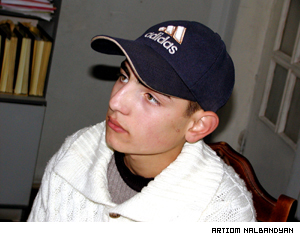 Fifteen years ago, the Spitak earthquake made Aram deaf.
Like plenty teenagers, 15-year old Aram Baghdasaryan of Gyumri is happy when his family goes to bed, and he gets the television to himself. For Aram, TV is a window to an unknown world - tempting, and a little scary.
Aram turns down the volume. For him the sound is useless and irritating. He has been deaf and dumb since he was six months old - since December 7, 1988 when Gyumri (then Leninakan) became famous because of its deadly earthquake.
He doesn't remember anything from that day, but he knows about the earthquake.
"We lived on the fourth floor of a five-story building," says Aram's mother Karine Baghdasaryan. "During the earthquake we were in the hall, and the baby was in the living-room. Due to the shocks, plates and dishes fell down from the sideboard, and I remember that when we ran up to the boy there were glass splinters by the head of his bed. Maybe something had fallen on his head though there were no external wounds. At that moment we only thought about getting out of the building which began to sink right in front of our eyes."
According to Karine, her son didn't have any hearing pathologies in his early infancy. He was reacting to sounds and laughing. But after that fatal, fateful, morning sounds became only irritating, unbearable noises. That's why he is glad to turn down the TV volume.
A few years ago at a hospital built by an Austrian agency in Gyumri the boy was given a hearing aid. But it didn't help Aram at all; on the contrary, he began to better hear noises, which aggravated his sufferings.
"Whenever I was putting the hearing device on his ears, he was immediately taking it off and throwing it away. Maybe if we had money, we could consult better doctors. I've heard that operations in such cases can very often be effective. But even a simple visit to a doctor is a problem for us, a regular audiogram costs 20,000 drams (about $ 35)," says Karine.
The Baghdasaryans live in a 15-square meter "temporary" home that is kitchen, living room and bedroom. Besides Aram, there is another child in the house, 12 year old Sargis. Karine's husband has a serious liver disease. When he feels well enough, he and Aram repair shoes for an income. But otherwise, the family survives off its 8,600 drams (about $15) social welfare allowance.
"There is no money even for medicine. Every day I wrack my brains over a dinner for my husband and children," Karine says.
Aram (left) doesn't need a voice to make his puppets come alive.
The Baghdasaryans have received a voucher for an apartment in a new building. According to Karine, they don't want to move, because they would have to live in the two-room apartment together with all the relatives of her husband. According to a governmental decision, apartments are granted taking into account the square footage of the previous apartment which was ruined due to the earthquake.
"The fact that the number of family members has increased is not considered. Together with my husband's relatives there were six people in our old apartment. Now there are 10 of us, and we won't fit in an apartment," explains Karine.
To divert his mother from sad thoughts, Aram smiles and points to a doll, Master Mukuch, based on a character of Gyumri folklore, and no ordinary toy at all.
Master Mukuch is Aram's connection to the hearing/talking world. The teenager has become a puppeteer with a company from the Meghvik ("Bee) non governmental organization. If his condition is a handicap in real life, Aram lives with ease through Mukuch.
"The boy found his calling in the cultural center," says Veanush Hovhannisyan, head of Meghvik. "He works on the puppet show staging with such an excitement that there is no doubt that it is his vocation."
Hovhannisyan founded Meghvik Cultural Center right after the earthquake, and the center's work has been credited with helping the children of Gyumri cope with the psychological effects of living in a "disaster zone".
She says she can understand Aram without any words.
"The boy feels uncomfortable when we complain about the hardships of life," she says. "Here, working on theatrical staging, painting, embroidering, children forget about misfortunes. Life of these children is a terrible ordeal, and nobody knows if we can ever speak about their full rehabilitation."
Aram has interpreted Vehanush's words in his own way. Karine 'translated' his interpretation as:
"When New Year comes I will speak," the boy says through his mother, and his clear brown eyes began to shine.
To learn more about the Meghvik Cultural Center: Call (374 1) 42.92.64; email: meghvik@freenet.am. If you'd like to assist the Baghdasaryans or others with such needs through ArmeniaNow's HyeSanta project, click here.