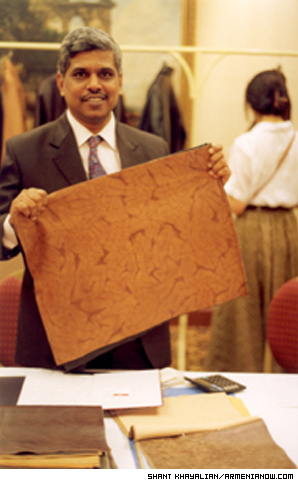 India's leather is better than China's the dealers say.
India, already active in Armenia with a $100 million gold-mining enterprise, is looking to expand its business associations here and held a one-day exhibit this week to encourage trade between the nations.
Held in Hotel Armenia, the exhibition offered a display by seven exhibitors of mostly leather and sporting goods aimed at attracting Armenian businessmen to connect with Indian manufacturers.
According to India's Ambassador to Armenia, Deepak Vohran, the exhibition had the dual purpose of promoting Indian leather goods and of stimulating Indian investment in Armenia.
(India's main investments here are its mining enterprise in the Ararat region and a diamond-processing company.)
Vohran hopes that the third big investment in Armenia will be made in leather.
"China provides the biggest volumes, but Indian leather is of the best quality," the ambassador said, adding that his country will produce $4-5 billion of leather goods this year.
Deputy Head of the Chamber of Commerce and Industry of Armenia Aram Vardanyan says that Armenia imports leather from different countries, but gets most of its top-quality leather from Italy.
Ambassador Vohran insists that leather imported to Armenia from Italy is 80 percent Indian, because Italian businessmen cooperate with Indian businessmen in this field.
During the exhibition meetings were held between Armenian businessmen and their Indian counterparts for the purpose of finding mutually advantageous common grounds of economic cooperation.
According to Indian businessmen, Armenia is a good place for investments. Especially the geographical position of the country attracts them as it is next to Europe and CIS countries. There is also cheap, efficient and well-educated man power here.
Indian manufactures met at the exhibition with Armenian dealers.
The Indians say they are also looking at cooperation with Armenia in the fields of engineering industry, high tech and Information Technology as well.
Vohran says India would like to build an automobile plant in Armenia, for production of its "Scorpio" model.
"Those cars are of the same quality as the Japanese 'Pajero' but they are much cheaper," Vohran says.
On the export side of business, Armenia is presently sending scrap metal to India. The Ambassador says it is hoped that soon Armenian wine will also be exported to his country, as well as Cigarron cigarettes.
An Indian delegation is expected in Armenia in the near future to discuss development in the high-tech industry. Presently Indian production in that area is about $20 billion. According to the ambassador, India hopes to increase its high-tech output to $80 billion by 2008.
According to Vardanyan, cooperation with India will provide Armenia with great opportunities.
"There was a time when Armenia was a country producing shoes and other leather goods and it was also known for its information technologies," he says underlining the fact that there are many plans connected to this country.
While talking about leather production the Indian ambassador, who speaks Armenian and as he says, "almost perfectly", joked about how in India the fact of cows being holy animals is combined with development of the leather business.
"The cow is holy but the buffalo isn't," he says. "The cow is holy but it dies. We also skin lizards, alligators and snakes, but only after they are dead."