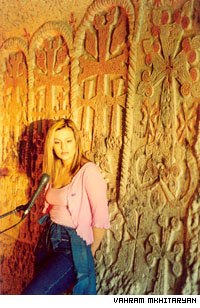 Varduhi Vardanyan is one half of a dispute over a pop song..
The Armenian-Azerbaijani conflict has spread across the political field to the arts.

This week Azeri television and newspapers reported that Armenian singer Varduhi Vardanyan has stolen a song from their favorite pop star Briliant Dadasheva.

Seeing the Armenian singer perform on an Armenian TV channel, the Azerbaijani singer applied to the head of Azerbaijani copyright agency Kyamran Imanov who agreed to help her seek justice in this case of "Armenian plagiarism".

According to "Echo" newspaper, Vardanyan "has appropriated" Dadasheva's song "Vocalize" by presenting it as an Armenian music composition named "Bakhtakhali". Dadasheva supporters are saying Vardanyan's song is a blending of Azeri songs "Meidan", "Baki" and "Novruzum", songs that are protected by copyright in Azerbaijan and Turkey.

The subject of the argument is a dancing composition with no lyrics. According to music expert Ashot Baghdasaryan the song is a blend of Caucasus music which has been played in different interpretations by Armenians, Georgians and Azerbaijanis.

"Ten or 15 years ago our State Dance Ensemble was dancing under that tune and still does," says Vardanyan.

According to the singer there's no way Dadasheva can prove that her song is stolen and "we can sue her for stealing Armenian songs".

Vardanyan, a favorite in contemporary Armenian pop, says her attorney has advised against commenting on legal action. But she was not restrained in expressing her anger at the accusations.

"How dare they speak about stealing cultural wealth, when they've privatized all of our culture and have distorted our songs with their mugham (Arabic sound vibration of rises and falls)? They haven't had folk songs at all, and the founder of Azerbaijani Ensemble of Folk Instruments was Armenian by nationality, doctor Ionesyan," Vardanyan argues. "It was their Uzeir Hajibekov who stole songs of our Komitas and Dadasheva is now stealing our songs and bravely includes them in her CD."

The song Vardanyan mentioned was included in Dadasheva's "Mach-mach, Gouch-Gouch" CD, which was released recently by Sistem Muzik studio in Istanbul.

The Azeri pop star says the Armenians "copied" her song from Turkish TV channels or found it through the Internet.

"When I heard how non-professionally the Armenian singer performs my song I was horrified. The thing is that 'Vocalize' consists of difficult vocal sound rises and falls and not everyone can sing it," Dadasheva told Azeri media. "And that Armenian has distorted the song not being able to even keep its rhythm."

The controversy has been a topic of discussion in the forum section of www.bakutoday.net. Some Azeris upset with the "Armenian plagiarism" are angry that Vardanyan has also recorded a music video of the song, while their favorite singer has not.

Lala Huseinova, the secretary in charge of Azerbaijan's Union of Composers told "Echo" newspaper:

"Armenians can easily falsify any document. See how many things they've taken. Armenians are capable of anything. Listen carefully to 'Vocalize', it's a pure synthesis of Azeri folk compositions. We are very angry with that fact of plagiarism. How can they steal our music so impudently and present it as something of their own. We have to fight against it…"

In response, the president of Armenia's Union of Composers, Robert Amirkhanyan said the secretary of Azerbaijan's Union of Composers is an administrative employee and has no right to make such announcements, adding: "The one who doesn't have, steals from the one who does. What folk songs do Azerbaijanis have? We have such a treasury of folk songs that one singer does not even manage to sing them just once during his whole life."

Amirkhanyan says if a singer is singing the song of another nation, it ought to be seen as a message of peace. But:

"If they have some problems with that, then our Union is ready to invite their representatives to a discussion at a round table so that they clarify for themselves the borders of Caucasus music and their role and place in it."