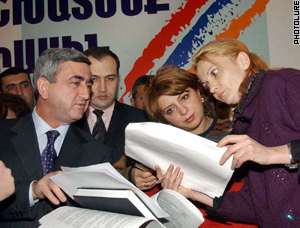 Both the re-elected administration and its opposition held press conferences today in reaction to yesterday's Central Election Commission vote count that gave Robert Kocharyan a second term as President of Armenia.
Kocharyan forces were represented by Minister of Defense Serge Sargsyan who has acted as the President's campaign manager during both rounds of the election.
Meeting at Kocharyan's main campaign headquarters, Sargsyan would not give an opinion on a report by the Organization for Security and Cooperation in Europe calling the elections flawed, but told journalist the report cited irregularities in "only 13 percent" of polling stations.
(In fact the report states that "technical procedures were correctly followed and assessed the process positively in 87% of polling stations visited".)
Meanwhile across town at the National Press Center, runner-up Stepan Demirchyan was still talking about a "way to win".
"I know only one way to win," Demirchyan said, "the way that is allowed by the Constitution. We are not revolutionists, but men of principles and are consistent."
Few in this city could call the Opposition inconsistent, as again yesterday and today -- like almost every day since February 20 - another mass rally was staged.
Both Sargsyan and Demirchyan reacted to a report by the Commonwealth of Indpendent States mission leader Yuri Yurov, which called Wednesday's election (as indeed it had on February 19) free and fair.
The Minister of Defense said the CIS report is evidence that regional neighbors understand Armenians better than the foreigners do.
"The CIS observers know much better our mentality because we were born in the same Soviet territory," Sargsyan said.
Some European observers were surprised when Kocharyan collected 30 percent of votes at one polling station and 80 percent on another polling station of the same district.
Sargsyan explained: "For example if in the area around one polling station live my relatives, they vote for Kocharyan. Europeans do not understand it because they have a different mentality and different rules."
Demirchyan took another view.
"Let the head of the CIS mission persuade all that the elections were fair and transparent," he said.
Demirchyan said that as soon as the final results are announced, he will appeal to the Constitutional Court.
Meanwhile, his followers will make their appeal in the streets.
"When the society is complaining, it means that it is not dead," Demirchyan said. "The people are aggrieved and we are going to continue protecting our rights. And if we do not succeed in achieving justice through the Constitutional Court, the we will think of other ways."
Against what might be read as veiled threats, Sargsyan talked about stability.
He said his side accepts the Opposition's demonstrations "within the limits of law".
"If the situation became out of control that would mean there is no regime in charge in the country," he said.