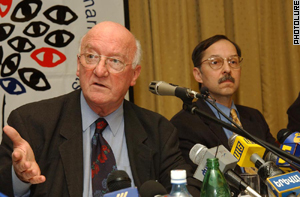 It appears that, as expected, Robert Kocharyan has won a second term as President of Armenia.
With at least 64 percent of votes counted from yesterday's runoff Kocharyan had 349,757 (69.6 percent) to challenger Stepan Demirchyan's 153,065 (30.4 percent).
Kocharyan's 39 percent lead over Demirchyan is even greater than the February 19 first-round vote when the margin between the two was 21 percent.
But also as expected, and in a repeat of first-round voting fallout, international observers invited to monitor independent Armenia's fourth Presidential Election released conclusions that do not flatter the country's attempt at democratic process.
The Organization for Security and Cooperation in Europe (OSCE) through its Office for Democratic Institutions and Human Rights (ODIHR) and the Parliamentary Assembly of the Council of Europe (PACE) deployed 200 monitors for both rounds of the election.
"I am disappointed; we had hoped for better," said Peter Eicher, head of the ODIHR mission, in a press conference today. "Once again we witnessed significant problems on election day, and the period between the two rounds did not meet international standards for an open and fair political campaign."
Lord Russell Johnston, head of the PACE delegation, commended the citizenry of Armenia for its conscientious participation in the elections but chastised the nation's leadership.
"For Armenia to advance democratically and to meet its commitments to the Council of Europe, we need the same attitude from the senior political leadership," Johnston said.
In response to a journalist's question about possible reprimands against Armenia by the Council, Johnston said it is not the Council's method to "punish" but rather to offer suggestions for improvements.
In an eight-page report of the International Election Observation Mission, the OSCE/PACE delegation addressed several areas of concern. (To see the report in full, go to http://www.osce.org/odihr)
Among them:
"Observers reported that in general technical procedures were correctly followed, but serious irregularities, in particular ballot box stuffing, marred the process around the country."


Election Administration: The makeup of election commissions was "even more imbalanced in favor of the incumbent than in the first round.


"The campaign teams of both candidates complained to international observers about harassment by the other side."


Media coverage: "In the period between the first and second rounds, publicly-funded TV comprehensively failed to meet its obligation outlined in the Law on Radio and TV Broadcasting, as well as in a CEC (Central Election Commission) decision of 15 January, to provide voters with information about the candidates free from prejudice or preference.

"The President received 69 percent of primetime coverage on public TV news and analytical programs, almost all of it positive or neutral (93 percent). In contrast, Stepan Demirchyan received 31 percent of the coverage, of which 67 percent was negative.

"The print media continued to show clear bias in favor of their chosen candidate to the extent that it was almost impossible for a voter to rely on any one source of information to gain an objective view of the campaign."


Vote count and tabulation: "Observers reported that in general technical procedures were correctly followed and assessed the process positively in 87 percent of polling stations visited.

"However, the voting process was marred by serious irregularities in a large number of polling stations. International observers documented and confirmed ballot stuffing in more than 40 polling stations around the country.

"Intimidation was reported in over 10 polling stations, mostly proxies representing the opposition candidate. The presence of unauthorized persons, including government officials, in polling stations (24 percent) was once more a concern. In a few cases proxies or unauthorized persons supporting the incumbent were seen to be exerting undue influence in polling stations."

In one of the few positive comments, the report commended Armenia for its first televised candidate debate (March 3).
The OSCE/PACE conclusions are consistent with reports received by ArmeniaNow of ballot stuffing, fraudulent documents, inaccurate voting lists and general intimidation of voters.
And while most reports are of wrongdoing by Kocharyan supporters, allegations of violations are also aimed at the Demirchyan camp, including:
Former Minister of Transportation and Telecommunications Edward Madatyan is said to have entered Erebuni School No. 68 polling station accompanied by 10 others and stuffed a stack of ballots into the box while also making derogatory remarks and calling Kocharyan a "Turk".


At polling station 0400/18 commission members prevented an unknown man from putting nine ballots for Demirchyan into the box. Similar incidents were also reported in three stations in Echmiadzin.


Demirchyan proxy and Hanrapetutyun Party leader Albert Bazeyan is said to have entered polling station 0332/15 carrying a gun (a violation of law) and to have threatened election commission members.

Today Bazeyan denied the allegation, telling ArmeniaNow that he was in the Gegharkunik region all day, and claiming that he never carries a gun. "We have already developed immunity to rumors that are spread by authorities," Bazeyan said.
In addition to several accounts of alleged fraud favoring Kocharyan reported yesterday on this site, others have surfaced including:
At polling station 190 Demirchyan proxy Laura Gevorgyan accused election commission member Armen Fidasyan of ballot stuffing in favor of Kocharyan, saying that she tried to stop him but was unsuccessful.

Witnesses confirmed Gevorgyan's story, including voter Marina Maloyan who said police did not respond to the incident, but instead "took me by my hands and turned me out".

Between the preliminary and the runoff, several Demirchyan election commission members were replaced by those believed to be sympathetic to Kocharyan. Several incidents were reported of new commission members engaged in ballot stuffing.


When Ruben Khnkoyan went to vote, he found signatures for voting in front of the names of eight relatives who have lived in Russia for the past several years (and suspects that the "votes" were recorded for Kocharyan).

Whether recorded in the reports of foreign agencies or in the notebooks of local journalists, abuse of voting rights that serve the ambitions of politicians have quite another effect on the populace.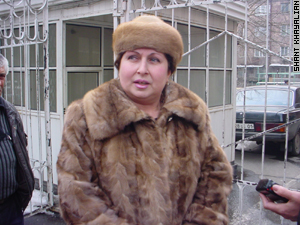 Ruzan Abelyan has seen her husband and two sons, all proxies, detained by police when they tried to interfere with what they believed were voting irregularities. One son's car was confiscated during an election-related confrontation Wednesday.
"I have been a teacher for 30 years," Ruzan told ArmeniaNow. "I always taught my pupils to be just. From now on I am not going to teach them things like that. I will be telling them to do everything possible in this country for reaching their goals.
"I was persuading my sons not to leave Armenia. Both are architects and were invited many times to work abroad. Now I will tell them to leave the country."