Peter Scheider, president of the Parliamentary Assembly of the Council of Europe (PACE) has called for the "immediate release of the arrested Opposition activists".
Scheider also called on Opposition parties to behave lawfully.
Neither of those things has happened, as more arrests were reported today and at least one account has surfaced of intimidation by pro-Demirchyan demonstrators.
According to the Ministry of Justice at least 15 arrests have been made since yesterday, bringing the total to 149 arrested since Saturday. Seventy-eight are being held for 15 days, others have paid fines.
Demrichyan staff report that some of their proxies are not sleeping at home, going from place to place in efforts to avoid arrests. In fact, some are said to be sleeping in Demirchyan headquarters.
The head of Demirchyan's campaign in Echmiadzin, Manvel Mouradyan, said two days ago he had been pursued by police.
"They come to our place, but they cannot find us there. This morning they came again and said they just want to invite us to talk to the head of their department. But the reality is that they want to bring me to account." Mouradyan says.
Mouradyan was out of hiding on Wednesday, gathering with several thousand others at the Institute of Manuscripts during an Opposition rally. An acquaintance of Mouradyan's told a reporter: "Talk to him today, you may not find him tomorrow."
According to Demirchyan spokeswoman Dustrik Mkhitaryan this morning police in the Yerevan district of Nork took a pregnant woman to jail after she refused to tell them the whereabouts of her father, Abraham Kirakosyan. When Kirakosyan learned that his daughter was taken, he went to police.
Demirchyan proxy Felix Khachatryan said he got a knock on his door at eight this morning.
"We asked who it was and they said they were from the criminal department of the Ministry of Internal Affairs. I didn't open the door and they knocked for 30 minutes. I kept telling them I won't open the door until you call an attorney."
Khachatryan called Tigran Ter-Yesayan, head of the International Union of Armenian Lawyers and says the police left when Ter-Yesayan and an OSCE observer arrived.
Demirchyan proxy John Sargsyan's wife, Hasmik, says she feels "stupid" for opening her door Saturday morning, but her husband said "Why shouldn't we open it. What have I done? If I am Demirchyan's proxy am I a criminal?"
John Sargsyan is now serving 15 days.
In Abovian, Demirchyan staff are blaming Kocharyan supporters for a fire that ruined their Kotayk regional headquarters.
Sambat Yeghiazaryan, a Member of Parliament, who is Demirchyan's regional director, claims there were documents concerning vote fraud in the building. No one was in the office when it burned.
People were inside, however, at the Datev TTT travel agency, when Demirchyan supporters came, ripping down pro-Kocharyan posters and threatening staff.
Bella Gevorgyan, 30, says four men carrying sticks came into the office on Nalbandian Street following last Thursday's Oppostion rally and demanded that she take down the Kocharyan campaign posters.
When she tried to protect the posters one of the men made a threatening gesture as if to strike her, then he and the others tore posters off the windows and walls and threw them into the street.
Gevorgyan says that the men said that because the agency was a "Kocharyan business" they must do some damage, and started hitting the office door with their sticks.
The staff, she says, was very frightened, but eventually one of the men said something to the effect that there were only women present with no one to defend them, so the attackers should leave.
"We called the police right away, but no one ever came," Gevorgyan says. "In protecting our President we didn't get any protection from him. Probably the police were already standing somewhere else (on guard during the demonstration)."
Workers at the agency said they still support Kocharyan. They no longer have posters in the window, but only because they haven't been given replacements they say.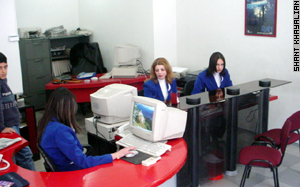 In addition to his call for calm, Sehieder says PACE is "seriously concerned at the shortcomings and violations reported by international observers after the first round of elections. If Armenia wants to live in accordance with its democratic obligations to the Council of Europe, these violations must not be repeated in the second round."
In a surreal twist to this campaign, President Kocharyan today invited three reporters to visit the isolator where accused October 27 terrorist Nairy Hunanyan is held.
For several weeks widespread rumors have circulated that Hunanyan was dead, leaving some to speculate that he was killed to prevent him from giving damaging testimony that might link officials with the December murder of journalist Tigran Naghdalyan.
The reporters, including those from "opposition" press were allowed to look through a hole in a cell door and confirm Hunanyan alive.
Following the visit Ministry of Justice spokesman Ara Sagatelyan borrowed words from American essayist Mark Twain to say that reports of Hunanyan's death have been "greatly exaggerated."