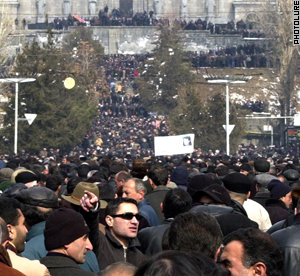 Following a weekend in which high-ranking administration took to the airwaves and Opposition sympathizers took to the streets, Yerevan is anticipating eight more days of emotionally charged campaigning before the March 5 Presidential Election run-off.
Some Opposition members have been arrested for public disorder and windows were broken at President Robert Kocharyan's main campaign office. Barbed wire has been unrolled in strategic Government places, but except for wars of words, conditions remain mostly calm.
In an interview on public television Saturday, Kocharyan said the country's political stability is a result of his administration and that he would not allow stable conditions to deteriorate.
"We will react seriously and strictly to all those attempts that could be aimed at disrupting the public order and especially paralyzing the work of State bodies," the President said. "This is an unambiguous position and I think everyone should be aware of it."
Already aware of the President's determined position are several dozen demonstrators who have been jailed for their participation in rallies that were held without municipal sanction.
According to Stepan Demirchyan's campaign headquarters, at least 130 supporters have been arrested in the past three days. Press Secretary Ruzanna Khachatryan said the number includes women and children and members of Demirchyan's campaign staff. The arrested are expected to spend 15 days in jail for charges that include disturbing the peace.
Yerevan Mayor Robert Nazaryan announced that Demirchyan and his allies
have not applied to the City Council for official permission for any of their demonstrations. A rally on Sunday included demonstrations near the President's residence and across the center of the city at his campaign headquarters. One news source estimated 60,000 participants.
At the rally which began at 2 p.m. and lasted for about three hours, Demirchyan told his supporters: "I am very proud of people surrounding me, and together we will lead our country out of this situation."
Minister of Defense Serzh Sarksyan, who is also the President's campaign manager, issued a statement that linked the current climate with the ongoing conflict in Nagorno Karabakh.
"Let us not forget that the war has not finished yet," Sargsyan said and that "the armed forces will not stand if the Opposition's actions endanger the State order."
In a television interview Sargsyan blamed Kocharyan's opponents for "violating the internal political balance of the State by its actions and calls.
"The Opposition must understand that attempts to violate the internal political stability in the country put under threat the constitutional order and state security."
During his televised interview, Kocharyan reminded viewers that last week is not the first time "politicians tried to destabilize the situation in the country hiding behind the people".
Kocharyan said he is satisfied with the results of the first round of voting, adding that his 49.8 percent is enough for a convincing victory in the runoff.
The President also said that the Opposition is much stronger when it acts within the law and that what the Opposition is doing now is tactically wrong.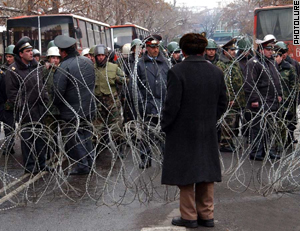 In response to a question about the Organization for Security and Cooperation in Europe's report that last week's election did not meet international standards, Kocharyan emphasized that previous elections were judged more harshly by outsiders than this one.
In an interview with ArmenianNow, OSCE delegation chairman Peter Eicher said the observers - about 200, representing 35 countries -- went to polling stations in pairs to gather their reports. He said about 25 members of OSCE's core group will remain in Yerevan and that the full contingent will return for next Wednesday's run-off.
On Sunday, the country's public television station announced it intends to organize two debates between the candidates for its program "Orakarg" (Agenda) in which Kocharyan and Demirchyan will be asked questions concerning national and international concerns.
Third-place candidate Artashes Geghamyan, who received about 17 percent of last Wednesday's votes, still has not said who he will support in the runoff.
The veteran politician has called last week's vote illegitimate and says that the Opposition's participation in a runoff would imply its agreement that the first vote should be recognized as lawful.
(ArmeniaNow reporter Suren Deheryan contributed to this report.)