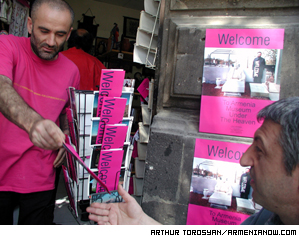 Azat Sargsyan's booklets with pictures of gravestones were placed in a giftshop next to other postcards.
The inscription "Welcome to Armenia, an Outdoor Museum" is included in the booklets published by artist Azat Sargsyan. In those booklets one can find his photos where he, dressed in black clothes with the word "welcome" written on them, stands next to different graves in Yerevan cemeteries.
On September 12 Azat was distributing his booklets in a gift shop located on Abovian Street. He had beforehand placed his booklets with the pictures of graves next to post cards with Armenian sites and happy Armenian faces. The expression "Armenia is an Outdoor Museum", which is told about historical and cultural monuments and churches spread all around the republic, has been heard by people since their childhood. Armenia is an outdoor museum in Azat's "tourist" booklets too, although cemeteries make that museum.
"Diaspora Armenians dream about Armenia. However, when they come here their dreams are ruined. They say 'Oh, they have stolen, what a country it is! Everybody is lying' and things like that," Azat explains of his performance. "Graves make dreams come true - to live abroad and to be buried in your homeland. A grave has no dreams any more to be ruined. And these days Armenia is something like a cemetery for Diaspora Armenians. The coffin business is being developed very intensively, people even sell their houses to the expanding cemeteries."
The performance is an irony directed to the utopia of Diaspora Armenians in the form of a cemetery. The performance started with the distribution of booklets and ended when they had all gone.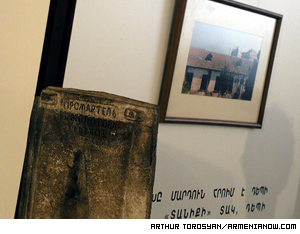 By his work, artist Mher Azatyan expresses his desire that Caucasus countries stop posing obstacles in each others' way.
Azat's project was presented within the International Project of the Second Utopian Meeting, organized by the Swiss Utopiana Organization (www.utopiana.am), which took place in Yerevan from September 8 to 13.
The subject of the meeting was "the body and its demands". It was presented through discussions and exhibitions.
Founder and coordinator of the Utopian Meetings is artist Anna Barseghyan, a resident of Switzerland who organized the "Utopia" exhibition of artists from Armenia and foreign countries two years ago in Yerevan. That exhibition preceded two utopian meetings.
"At one exhibition organized in Paris I saw a map dated from 17th Century. On that map paradise was located in Armenia," says Barseghyan, "In its fantasies the West was regarding the East as a paradise. However, unlike the map, the West is a social paradise for modern Armenia. So that was how the idea was created to take another look at Armenia and Soviet territory as a result of utopian reality of the Soviet times."
In 2001, Anna Barseghyan organized exhibition "Utopia", where artists from Armenia and Europe were participating at. Next year she created Yerevan Utopian meetings, during which intellectuals discuss urgent global problems and organize exhibitions. Meetings are financed by the Geneva Municipality.
Local and foreign scientists read lectures at the Yerevan State University over five days. The particular problem of the body in French philosophy was presented by Professor Renaud Barbaras of the Sorbonne ("the body is rather 'I am' than 'I have'.") and the theme of turning the body into a product was presented by Toulouse University economist Professor Genevieve Azam.
Anna Barseghyan's square cake with the map of Yerevan on top was delicious.
"Our goal is to turn Armenia into a meeting point, to organize communications between local and foreign representatives of the intelligentsia and to put an end to Armenia's isolation in some way," says Barseghyan
However, these contacts caused some conflicts. One Armenian lecturer, Levon Ghazaryan from the Department of Economic Theory, became angry when an architect from Geneva Bruno Vesier demonstrated pictures of installations with phalluses on them and declared that the only difference between the Mother Armenia monument and the Stalin monument that had been placed there previously was that "the moustache has just been moved from the top downwards". He also tried to intepret the statue of men dancing Kochari placed in front of the Dvin Hotel as a dance of homosexuals. In protest Ghazaryan refused to accept an honorarium.
On September 13, the last day, performances and artistic conceptions were presented in the Museum of Architecture. Artist Mher Azatyan showed photos of the Yerevan "Metax" Factory from whose roof tiles made in Grozny during the 1930s had fallen.
"The independence of Grozny is our independence too," Mher explains of his work. "For reigning in the Caucasus Region, Russia first of all always conquers Chechnya. Tiles made in Grozny symbolize the roof of Caucasus. This is my utopia. I want Caucasus countries such as Armenia, Georgia, Azerbaijan and other neighbors to have relations and cooperation resembling the model of Baltic countries. There are disagreements between those countries too, however they don't create obstacles to solidarity."
Anna Barseghyan's creation was presented to the audience at the end, a huge square cake (1.5m x 1.5m) with a map of Yerevan on the surface.
"The body of Yerevan has been pocketed and it is not 'ours' any more but 'theirs', who say in advertisements 'I love you'," says culturologist Hrach Bayatyan. "The distribution and pocketing of Yerevan (in the form of a cake) is an obvious reflection of the authorities and the richness that has already been pocketed. So this is how the cake was offered at the close of the party.
"From another point of view it is an expression of love - 'I'll eat you'."