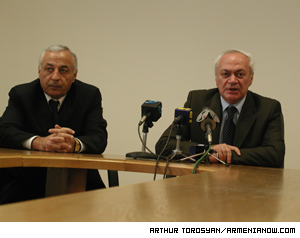 The minister of Health Norair Davidyan believes that chief specialists can improve the situation with healthcare in regions.
When three years ago the institute of chief specialist in Armenia's healthcare service was abolished by order of the former Minister of Health and 80 chief specialists dismissed, few thought that there would be a continuation of that story.
"There were several chief specialists in every medical field and they always argued with each other," says Ruslana Gevorgyan, an advisor at the ministry. "Each of them wished to control their field. That's why the former minister abolished the post, it had become entirely meaningless."
However, after several visits to the regions of the republic, the present Minister of Health Norair Davidyan concluded that role of chief specialist was needed badly.
"Many regions have a great shortage of equipment and specialists," says Davidyan. "At present, only chief specialists can improve the situation, by taking charge of developments in the different regions."
The minister attributed numerous gaps in the field of healthcare to a shortage of chief specialists and signed a resolution to form a new elite corps of doctors. Setting a new group the Minister was guided by the scientific achievements and professional experience of the doctors.
According to Health Ministry officials some members of the newly formed structure were also a part of the previous one. This time, however, the group was three times smaller than before.
"Now there are 29 chief specialists," says Davidyan. "Every important field such as psychiatrics, oculistics and others has only one chief specialist. They will become a connecting link between the ministry and those regions which are in an unenviable situation."
Under a preliminary agreement, the chief specialists will visit Armenia's regions to get acquainted with the present conditions. Subgroups will be created to tackle problem areas and make medical treatment more effective. They will also engage in the search for provision of new medical services in the regions.
The minister assures that the network of chief specialists will have a competent program on their duties ready within the next two to three weeks, along with a code to coordinate their work.
Ara Asoyan, recently appointed chief doctor for infectious disease, says that this initiative will breathe new life into regional institutions and improve communication between them and the capital.
"The regions are neglected," the new chief oculist Alexander Malayan. "It's true that it's not possible for regional doctors to be aware of the latest medical developments, particularly technological achievements. But believe me, it is possible to do more in the conditions and with the skills that many regional doctors work."
Medical doctors honored with the title of "chief specialist".
Malayan says that first of all chief specialists must be aware of what is happening in the regions because if doctors from time to time don't answer for their work then there is no sense to talk about the quality of medical treatment.
According to Malayan even diagnostics is a problem in regions. If it becomes possible to improve that, it will already be considered a great achievement.
The new head psychiatrist Samvel Torosyan says the top specialists will also be encouraged to learn new methods and to join numerous international organizations to improve their medical knowledge.
"We don't keep pace with the world," he says. "For instance, with our methods and medical preparations we are behind Europe by at least 15 years. Under these circumstances we are more responsible and must do everything to speed up our development."
Gevorgyan hopes that patients will feel positive changes in the quality of medical maintenance as a result of this initiative.
"In Lori region, for example, the situation is very hard. There are 25,000 people with swellings, but nobody is able to provide them with appropriate medical assistance. Now, after appointing chief specialists, everything will change. They will be responsible, it is also a matter of their prestige," she says.
According to Gevorgyan, the 29 chief specialists won't be paid extra for their new responsibilities. The title, she insists, "is already a great honor for them".