How do you write "New York" in Armenian?
A State inspection department is on a mission to save Armenia from an identity crisis.
Since early this month, the State Language Inspection office has been going door-to-door at Yerevan businesses, sternly reminding that the law requires that city shop and cafe signs be printed in Armenian.
Many signs, especially of foreign fashion names now appear only in English - a violation of Armenia's "Our Home, Our Language" law.
The inspection office recently took journalists along as it visited businesses that were on a list of 400 violators. The new action proposes fines of up to 200,000 drams (about $350) for owners whose businesses do not comply with the language law.
While they say they are doing a national service, inspectors are not met so patriotically by businesspeople, who are not eager to spend money making new signs or changing old ones.
At Nana Beggon clothing store on Tumanyan Street an employee of the store told the inspector: "I completely ignore the Armenian letters, don't threaten me by the law, I can sue you, if necessary".
Inspection department head Levon Galstyan, says responses during inspection reflects the education and upbringing of business owners.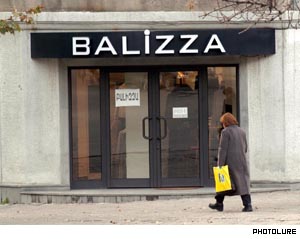 Some shops, however, do have Armenian signs, but still the ones in English look much more predominant.
Taking into the consideration the insults from the business owners, Galstyan said: "Such attitude is certainly not pleasant, but this is no reason to recoil. We are going to be more consistent, and I think some people will come to their senses and will realize that the law 'about the language' is one of the most important and basic laws".
Colorful billboards and shop signs are common and especially noticeable at night in Yerevan, having said good bye to the energy crisis once and for all. In this feast of light, Armenian signboards are hardly seen, and the predominance of the foreign signboards is everywhere. I'M NOT SURE I AGREE WITH THIS, AS IT SEEMS TO ME THERE ARE PLENTY BILLBOARDS IN ARMENIAN. JH
Enna Nadiryan, specialist of French language says: "Xenophilia is one of the ancient diseases of our nation. Remember the recent Rusophilia, which today is being substituted with the Anglophilia. Are we ever going to use our own language?"

Susanna Khachatryan, owner of Ara Geghetsik shop in Echmiadsin, is quite unaware about the existence of such law. She says that she ordered both Armenian and English signboards purely by accident.
At some "high profile" cafes and restaurants, inspectors were told the owners would rather pay a 20,000-dram (about $35) fine than replace a $3,000-5,000 sign.
At issue in the matter is a desire to preserve Armenia's most distinct characteristic, its language.
"Numerous language problems today continue to remain unsolved. Our goal is to correct all that together with the community's cooperation, conducting inspections and using punishments," says Galstyan. "It is high time to make some corrections in the language law by considerably increasing the amount of penalties."
Hovhannes Saroyan, head of the department's legal violation at the inspectorate, reports that due to the inspections, 17 businesses have been sued DO YOU MEAN FINED??. Five 5 of them still either haven't changed the foreign language sign or haven't attached the Armenian sign next to the existing one.
During recent inspection of 36 businesses, 28 reports concerning violations were drawn up and will be presented to Armenia's Court of First Instance.
Failure to comply with the language law could have serious consequence.
"We will suggest City Hall to organize some demolishing activities," Galstyan said. "The way the illegal buildings are being pulled down, the foreign signboards will be taken off. This inspection is the result of the first part of our work; we are going to continue the struggle for the native language."