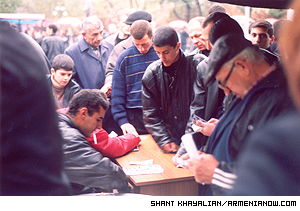 Street corner tables have become mini gambing kiosks..
The prospect of new legislation placing restrictions on Armenia's various lottery games has increased the popularity of the games throughout Yerevan, as lottery promoters try to capitalize on the gambling craze before facing tighter limits on their availability.

On November 7, the National Assembly of Armenia passed on first reading a new law that would increase by four times the amount of tax (from 25 million drams annually - about $46,000 to 100 million, about $184,000) lottery promoters would be required to pay. Further, the new law would cut down the amount of time given to lottery ads on television, from 10 minutes per hour to 90 seconds.
The effect of the first-read approval is that Yerevan street corners have become mini-gambling booths, as lotto fever has intensified in anticipation of making profits while more liberal legislation is still in place.
The victorious parade of lotteries has become an ordinary phenomenon in the streets of central Yerevan. Many cars tied up in red ribbons and placed on specially constructed platforms are being advertised on TV. For instance Bari Akntart (Kind Moment) TV lottery raffles 40 cars and Bari Domino (Kind Domino) is tempting punters with 54 over a two month period.
The scenes in the streets are repeated on television, with a barrage of almost-continuous commercials tempting takers to spend an little and win a lot.
"Whatever channel you turn all you hear is expressions like 'gone-gone' or 'you're the next lucky one'. And the Shahogh Loto (Winning Lotto) is simply something insane. When those commercials start I turn off the sound of the TV," complains 45 year old Susanna Harutyunyan.
The gambling bug bites particularly strong near the places were cars are on display - mostly late-model Ladas, valued at about $7,000. There, lines form of eager players ready to lay down 300 drams, about 75 cents, for a chance to drive home a new car.
300 drams for a Niva? What a deal!.
Lottery players eagerly scratch at numbers, using 10-dram metal coins to swipe away the cover holding what they hope will be a prize-winning number.
Yura Arushanyan from Abovyan is diligently checking the tickets that he's just bought. His 10 year old son Armen and his wife Mariam are carefully watching him. He is so concentrated that he even refuses to talk while he is "scratching".
"Each day I buy 10 lottery tickets. I believe that some day I'll be lucky, otherwise I won't buy, even though I've never won, only a 1000 drams at most," says Yura.
His optimism was interrupted by an old lady who said angrily: "I bought so many lottery tickets. Where is their 'you're the next lucky one'? It is all a lie. All of them are cheating."
Deputy Artak Arakelyan is among MPs who are concerned about the lottery's effect on the citizenry.
"They interrupt programs on TV to show those meaningless commercials," Arakelyan says. "They use children in them, which is against the law. They show half naked girls sitting on cars they raffle and offer to win. All of that has serious impact on people's mental state."
According to Arakelyan it is likely that the Assembly will take a stronger initiative and reduce even more the advertising time approved in the new law's first reading. Even 12 minutes a day (the amount allowed by the new law) is too much commercial time, some deputies say.
"People get excited with the commercials and spend their last money on lotteries," Arakelyan says. "Take the pensioners who buy those tickets and waste them. This is disease, like drug addiction."
But Armen Grigoryan from Armavir is sure that this TV lotteries fuss is typical of countries in transition. "If in developed countries people treat lotteries as games and don't spend their last money on them, here it's vice versa. They often give the last penny to win nothing."
The director of Entanekan Lotto (Family Lotto) office Vardges Vardanyan treats the coming changes with satisfaction.
"The competition field of lotteries will be regulated and two or three big lotteries will remain," he says.
However, the executive director of Bari Lotto is not pleased with the state tax increase saying that the situation for companies doing lotteries will become more difficult. Instead, he agrees with limited advertising.
According to the press office of the Ministry of Finance and Economy there are nine organizations that have a right to carry out lotteries and seven out of them are TV lotteries.
Artak Arakelyan insists that the income from lotteries and its formation mechanism have become uncontrollable.
"They raffle the cheapest consumer goods which are imported in Armenia and under the cover of lotteries they show higher cost," he explains.
According to the existing law 50 percent of lottery tickets should hold winners. While the cars are the big prize, it is also possible to win TVs, computers, ovens, cell phones, hairdryers . . .
Twenty-eight year old Arsen Dykhanyan has been selling lottery tickets for five years. At a small table on the corner of Pushkin and Abovyan streets, he stands there from 9 a.m. till 5 p.m. The job, he says, helps him take care of a family of eight, as he makes 20 drams (less than two cents) on each ticket he sells.
"Today I've sold 500 tickets and made 10,000 drams (about $18). I make 20 drams in one ticket," he says. And then he adds the mantra of lotto fever:
"You're the next lucky one," he says.