Every year on May 19 Nikolaidi Fruntik of Yerevan meets his relatives near Kievyan bridge and together they walk to Tsitsernakaberd memorial to lay flowers.
Armed with flags of Greece, Yerevan's Greek community "Ponty", headed by 57-year old Fruntik, follows the path walked each April 24. On May 19, the Greeks pay homage to their relatives who were also among the Turk's victims during the Genocide.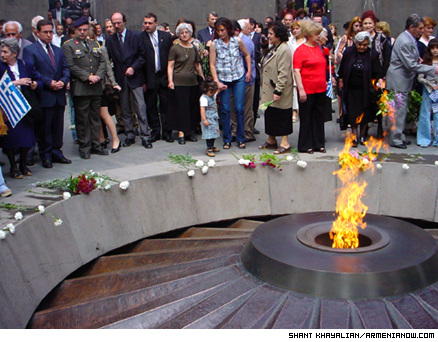 Each May 19 Greeks in Armenia gather at the Genocide Memorial to remember victims of the 1922 massacres.
"May 19 is the most tragic day of our nation," says Gerges Alamanos, the charge d' affaires of Greece in Armenia.
Multiple thousand Greeks residing on the south side of the Black Sea were killed in 1922, part of the same genocide that earlier devastated Western Armenia. According to some historical records, more than 350,000 residents of Pontos were among the victims.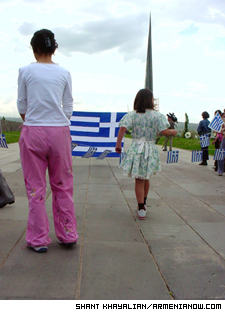 Like the Armenians on April 24, the Greeks remember their beloved a month later with marches to the monument.
The Greek Genocide Day is shared by many Armenians, including Albert Stepanyan, director of the Armenian-Greek Cultural Center.
"Finishing the Armenian Genocide in 1915, in which (the Turks) seemed to succeed, they started the same activities against Greeks in 1919," Stepanyan says. "The existence of the Ottoman Turk government was the environment of genocide where such violence was done to different nations."
"Today April 24 and May 19 mix," says director of Armenian Genocide Museum and Institute Lavrenti Barseghyan. "On the area of this small and modest memorial two most ancient nations recall tragedies which they will never forget."
Some 5,000 residents of Greek origin call Armenia home. About 2,000 live in Yerevan. During Soviet times their numbers were several times more and included entire Greek villages.
In 1990s the Government of Greece started programs supporting the repatriation of Greeks from post-Soviet countries.
"There are several Greek families in Armenia, which are pure-blooded Greeks, and others have mixed with Armenians," says Fruntik. "Armenian and Greek people are very similar in both appearance and inner world, as well as in fate from the last century."
Nikolaidi Fruntik leads the Greek community in memorial services.
According to Fruntik the community tries to preserve all Greek traditions as far as possible. One of those traditions is the commemoration at Tsitsernakaberd.
There is no Greek Orthodox Church in Armenia, so most attend Russian Orthodox churches. But negotiations are underway to build a Greek Orthodox cathedral here.
Through a program sponsored by the Embassy of Greece, children get free Greek language lesson twice a week. And each summer Greek children ages 9-12 are given free visits to Greece.
There is also a Greek dance ensemble headed by Fruntik's Armenian wife, Agapi Khurshudyan, whose family is from the Western Armenian town of Mush.
"During the years of slaughter, only my father stayed alive of my 58-member family. Do you imagine the extent of brutality?" says Agapi. "There is a Greek movie that tells about the slaughter of Greek people in 1922. I always compare it with the movie 'Ararat', as both films tell the same phenomenon.
"I am married to a Greek and gave birth to a Greek child, and the same fate fell to my child's grandfathers' and grandmothers' lot."