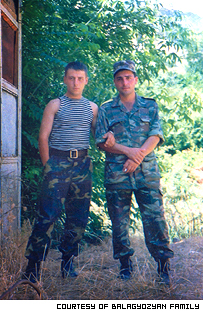 Hovhanness Balagyozyan (right) was shot in the chest six or seven times by another Armenian soldier.
It is a story that has become too familiar in Armenia:
Soldiers who should be fighting for each other instead fight against each other.
Over the past year Minister of Defense Serge Sargsyan has bragged that the number of soldier-on-soldier crimes has decreased. And in fact statistics support the claim.
Still, according to information from the Republic of Armenia Police and the Chief Prosecutor's office, there were 69 murders committed among the civilian population last year. Meanwhile there were 62 deaths in the army. Officials would not tell ArmeniaNow how many were murders. One attorney, however, said the vast majority are criminal acts.
This, though, is not a story about trends or statistics, but about one family for whom one soldier's death was too many.
Lida and Zhora Balagyozyan's story is a story of loss.
At a post in the Hadrut region of Nagorno Karabakh on February 13 Hovhaness Balagyozyan, 26, was shot to death by another Armenian soldier Smbat Poghosyan, 21. It was not a case of "friendly fire".
A sergeant, Balagyozyan was in charge of keeping order in his unit.
After dinner on February 12, Balagyozyan told Poghosyan it was his turn to clean the dishes, a task generally assigned to new recruits. Poghosyan, who was recruited at the same time as Balagyozyan, refused and the two argued.
At 5 o'clock the next morning Poghosyan, carrying a machine gun, entered Balagyozyan's room, where three others were sleeping. He told two to leave.
Then Poghosyan fired six or seven rounds into Balagyozyan's chest.
Poghosyan also shot and wounded soldier Armen Hakobyan. Then Poghosyan fled into the Azerbaijan village of Alibeyli, into enemy territory, risking capture by the Azeris rather than face the consequences of his crime.
He was in fact taken captive and on February 18 was part of a prisoner exchange between the two sides. The Military Prosecutor's Office of Hadrut Region has charged Poghosyan with murder. The investigation is in process, including forensic-psychiatric examination.
In his 20 months in the Army, Poghosyan had gone absent without leave seven times. The commander in charge of his unit says the 21-year old was placed on guard because more reliable soldiers had been sent to Yerevan to stand against protestors during the presidential elections.
Hovhaness Balagyozyan was called into the army in June of 2001, six months after he had become a post graduate student at the Yerevan State Conservatory.
"You know Hovik was such a good composer, he had outstanding potential. He was gifted, very gifted," says composer and professor of the Conservatory Arik Satyan. "I taught him composition, and he was outstanding in that too.
"He was my son's classmate in the Conservatory, everybody liked him. And I want to say this in particular: he wasn't a confrontational person at all."
The Balagyozyans appealed to the Minister of Education and Science, asking to have Hovhaness' conscription delayed until he finished his degree studies.
A recommendation letter from the Conservatory asked that his army service be postponed taking into account the "bright individuality of the young specialist and his music talent". The letter was signed by noted composers and Conservatory professors.
"My son had a solo concert in Aram Khachaturyan's concert hall, and the whole teaching staff was congratulating him," says his 51-year old mother. "I stood aside. Our family is not very educated and from a lower class. I don't feel comfortable (among the professors).
"When my son saw me standing on the side he left others and quickly came to me and gave me a hug. 'Mommy, I have to thank you for my success, all this is only due to you.'
Armen Hakobyan was discharged from the army after being wounded by Hovhanness Balagyozyan's killer.
"I have lost my darling and my treasure."
While the mother sobs yet the loss of her talented pianist, his 63-year-old father says his son was a "real man".
"He wasn't a coward, how else I can describe him," Zhora Balagyozyan says. "And he was tough."
Conservatory rector Sergey Sarajyan recalls a gifted student but says he was fond of Hovhaness "as a person first of all and only after that as of a gifted piano player."
And the professor recalls a day Lida Balagyozyan came to solicit his help in delaying her son's conscription.
"I remember his mother coming and crying here. I don't forget her asking to help her son and saying she feels if he went away something bad would happen to him."
Military Police picked up Hovhaness Balagyozyan on a Yerevan street and held him in detention for two days. They charged that he'd entered graduate studies as a way of avoiding military service.
"They were keeping him until we paid $300," Lida says. "My child had studied for five years and during five years representatives of the military registration and enlistment office were knocking at our door. They took him away but why don't they bring him back?"
Five months after Hovhaness was called to service, a group of post-graduate students at the Academy of Agriculture protested their draft, and filed a lawsuit saying the Armenian Constitution provides for study deferments of post-graduate students.
"We were watching those demonstrations on TV," Lida says. "I wrote a letter encouraging my son and telling him that post graduate students would probably reach success and that he would return to continue his study. But is there a justice in this country?"
While the lawsuit was being heard, the 50 post-graduate students were taken into the army. Three months later, in February 2002 the group leader Artyom Sargsyan was beaten to death by soldiers in his unit at Vanadzor.
***
The military personnel who knocked on her door "for five years" did not knock to tell Lida Balagyozyan that her boy was dead.
Instead the family received a phone call from a clerk in the office of the Head of their municipal district.
"The body of a soldier was brought from Karabakh," the caller said. "Go to the morgue for identification."
No army officials attended the funeral.
Battalion commander Karen Navasardyan visited the Balagyozyans two weeks ago.
"He came to find out from us about the incident as if he didn't know," Lida says. " I asked him how someone who had escaped from the military unit seven times, could have been entrusted to guard the border and let him kill my son. He answered that they had to send Poghosyan to the position as there was nobody else for sending because the unit went to Armenia from Karabakh during the elections."
The mother recalls her previous visit with the commander while he was in Yerevan after her son had been sent to Karabakh.
"I said, 'Karen-jan (my friend), Hovik is my only son, take a good care of him. I have nothing else in this world so do everything so that he could return home'."
Nothing else in this world.
Hovhaness is the third child Lida and Zhora have lost.
In 1974 their two-year-old son died of leukemia and in 1986 their 16-year old daughter died after heart surgery.
One daughter, 33-year old Aghstrik remains.
Zhora and Lida had four children. Now they have one.
"Nobody asked us, at least once, if we have ever lost a child. I lost two children," Lida complains. "What kind of a country is this? Shouldn't they be interested in what conditions parents live?
"I lost two children and they do everything to take a third one to the army. Why don't they ask themselves a question that the only hope of these people is their sole son, who must feed, take care and bury them when they die?
"Nobody is interested. They ruined my life. They wanted to take Karabakh, but at whose expense?"
The expense of an attorney is more than the Balagyozyans can afford, as if fighting a court battle would matter any way.
"There is no law in this country. Law is money," says the embittered mother.
"If we pay money he wouldn't go to the army at all. If you don't have money than go and die, nobody cares for you. People here work for 1000 drams day and night and they say 'give this money to us and we will not take your son to the army'. But how can we give that money?"
The parents do not believe there is justice in Armenia. They don't believe there will be a fair legal process and the truly guilty punished. They haven't even followed the investigation.
"Who is going to defend us in court? If we had someone to defend us, they wouldn't have killed him," says Astghik. "Time will come and I will take revenge for my brother with my own hand," says Astghik.
***
Soldiers in military trials typically say whatever they are told to say.
Armen Hakobyan, now discharged and living in Charentsavan, says little about what happened in Hadrut. He speaks in scrappy phrases and looks away fearfully during conversation.
It is easier for him to talk about the common things known about his dead comrade.
"We have learnt lately that Hovik was a graduate student and graduated from Conservatory," Hakobyan says. "He was telling us books he had read and was reading the Bible for us."
During his first years as a piano student, Hovhaness Balagyozyan practiced by candlelight as Yerevan was darkened by the nationwide energy crisis.
"I've been raising a piano player boy for 15 years, taking care of him not for other people who took him away and killed him," Lida says. "Why should he be in the military positions of Hadrut?
"When his father used to say let him (help with housework), I wouldn't let him. I was afraid he would hurt his fingers. He was learning piano by the light of a candle. One can go crazy.
"To raise a child by the light of a candle…"