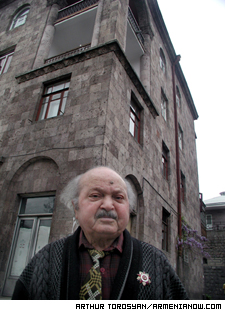 Arshaluis was a war prisoner for four years.
"It was four a.m. when our detachment was awakened by the alarm. Each of us was given 15 bullets and we were taken to the deserted field. Three hours later while meeting the enemy we have realized the war had begun."
It was nearly 62 years ago when then 19-year old Arshaluis Vardanyan found his place in World War II on the southwest border of Lithuania. There were only 50 in his unit and their job was to clear the Germans from the town of Kibarti.
"We didn't have even a trench," he says. "Each of us was defending himself as well as he could. And the enemy was approaching from the height by thinning out our rows."
Today (May 9), as Victory Day is celebrated in many countries, Vardanyan has gone with other veterans to lay red carnations at the grave of the Unknown Warrior.
Vardanyan's own name was once among the unknown; one of the missing.
On the first day of war, June 22, 1941, Vardanyan and two Russian soldiers were taken captive.
To his family he was known as Ashik. But for the next four years the Vardanyan family had no word of Ashik, of Arshaluis, of any name associated with their son and relative.
"I was lying wounded in the shoulder, when German soldiers were collecting dead people's weapons. They turned me around to take a weapon off my shoulder and I opened my eyes," he says.
Leveling his machine gun at Private Arshaluris Vardanyan, a German soldier ordered him to raise his arms. He raised one, but the other was bleeding.
"It seemed that moment fear disappeared," he recalls. "I was thinking, if they are going to kill me let them do that. But being sure in my destiny I believed this wasn't the end. I was always sure the Soviet Union would win."

After searching Ashik they found and took away letters of his relatives. But the Germans overlooked his Komsomol membership card in one of his pockets. The card identifying him as a communist could have meant execution. He managed to bury the card in the dirt two days later.
"I survived due to my character," the 81-year old Yerevan architect pensioner says. "Before being called up to the army I was a very active Komsomol member, and I was displaying the same activity during my military service. I have never lost my head in any situation. When the war started I was called-up for only six-months, but I managed to create such an opinion about myself that I was appointed detachment commander."
But it became the Germans who were Ashik's commanders for the duration of the war. In the winter of his first year in captivity he was sent to a labor camp. Today he recalls how hungry and frozen prisoners were forced at gunpoint in minus 20 temperatures to dig ditches for laying water pipes in a German town.
Even in those conditions, he says, prisoners were trying to fight against fascists.
"One day when we were working a German soldier standing next to me cursed Stalin so much that I couldn't resist saying that Stalin would show them one day. He took a spade to hit my head, but the other soldier managed to stop it with his gun.
"At that time I couldn't mistrust Stalin's ideology, because I had seen him as the country's leader from my childhood."
Ashik was sent to work at a hospital for prisoners of war in 1942. After two years, he came to be considered a danger and was sent to solitary confinement in the camp headquarters.
He says the confinement came because he was part of an underground organization within the camp.
"This was a very serious organization, we had a code, and we were arranging escapes, ruining activities of the enemy. We were providing escapers with self made maps, compasses and addresses of the nearby partisan groups."
His anti-fascist actions were punished by a month of torture, then he was exiled with another 30 dangerous captives.
"I understood that time what real exile is," Ashik recalls.


His memories of the "Patriotic War" include a letter he wrote to his family from a Soviet army hospital..
This time they were either miners, or hay-makers or woodcutters from dawn to dusk.
"We were getting a piece of bread, a piece of margarine and one plate of meal called 'balanda.'
"When we were taken to harvesting cereals, we were returning with our pockets full of grain-crops. We were pouring it into metal containers full of water and putting it in the oven. We were eating boiled grain in the mornings and going to work again."
The Germans learned of their secret meals and sent the prisoners outside in their underwear while the barracks were searched.
"This was an awful day, it was freezing. I remember two captives rubbing my frozen toes with snow for a long time."
Only in 1945 when Germans started evacuation of the captives' camps Ashik succeeded to run away with a group of prisoners and joined the Soviet Union army.
"I had a dream that I returned home and my father raises his walking stick and says angrily: 'Where have you been so long?' and I answer: "Don't worry, dad, I was busy with my business."
Not returning home he again went to the front without informing his relatives, because he thought he hadn't participated in the war.
"I had to prove I wasn't captured on purpose and that I never had plans of betrayal."
On April 20, 1945, 19 days before "Victory Day" Ashik was again badly wounded and this time got to a soviet hospital and stayed there till November. He managed to send his first letter to relatives from there.
The dingy, 58-year-old letter is still part of his war memories:
Hello, my dears,
I am safe and sound, I am in the Red Army.
I will write the details after I get your reply.
Perhaps you won't believe me, because I'm writing in Russian, but the only reason for that is that my Armenian is incoherent. It is already the fourth year since I haven't spoken Armenian. I will write a few words in Armenian so that you believe it is really me.

Then he continues in Armenian:
Please, write about your life. Are you all safe and sound? Is Gervasya in the Army already, or no? Write also about my friend and all my relatives.
My address is: Field mail, 49497 Arshaluys A. Vardanyan.

And again in Russian:
So, good-bye for now. I think that you are very surprised and glad at the same time, so that it is impossible to put into words. I am waiting for your reply.
Your son, Ashik.
During the four years of his captivity the Vardanyan family got two notices of his death. His letter from hospital aroused new hope.
Finally, he returned home.
"I realized that they already lost hope of seeing me, that's why before returning I sent someone there, so that they did not get surprised."
After the war he succeeded in realizing his cherished wish. After completing his education, he became an architect and worked with famous architects such as Georgi Tamanyan, son of Alexander Tamanyan.
During his career Vardanyan helped construct several homes and state buildings. More than 10 still stand in Yerevan. Now he hands down his professional experience to his 20-year old grandson architect to be.
"I regret that I wasted those years," the old soldier says. "But at the same time I proved to myself that a person can confront any difficult conditions. If there is a goal, then one should struggle till the end to achieve it."
And today, returning from Victory Park, he will again join relatives to celebrate his day in an apartment building Ashik helped construct 45 years ago.