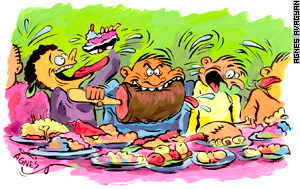 This table is so filled, guests must lean back to let more dishes in. And more come, as if Ararat's icy head is a mound of food and spring's thaw has opened a stream that ends in this flat on Halabyan Street.
Between where I am sitting on one end and where Artur and Yulia sit at the other is a carpet of cuisine beginning with platters of pickles and cheese and olives and ending with four different salads. The cheese has been laid out in twists that intersect with slices of meat onto which the olives are laid, not at all haphazardly, to create an artistic culinary mosaic even the hungry hesitate to disturb. The salads are topped with the white of half a boiled egg into which toothpicks hold slices of cheese that form tiny "sails", as if the cut cabbage and carrots make an ocean on which the egg boat floats. Greens have been carefully shaped in an oval bowl to look like a nest, on top of which a carrot has been carved to form a flower with a black olive as its pistil.
At each end of the table are a collection of drinks: Coca-Cola, Fanta, Jermuk, wine, vodka, juice. . .
There are 15 of us around a table that in most civil societies would seat eight. Elbow room is not an issue at Armenian tables and I've come to believe that they crowd as many guests around a table as possible if for no other reason than the joy of reaching over each other to get at the food.
But first comes the ritual of being seated. I've seen it last up to half an hour, even when few guests are present:
"Nsteq (sit), nsteq."
"Che (no), che. Duk (you) nsteq."
"Che. Duk."
"Che. Duk."
. . . And on and on in some battle to see who can be the most polite, then sitting to violate most rules of dining etiquette. Armenians make eating sport, a test of endurance gladly attempted.
Creases have barely formed on seated trousers and skirts before the scene erupts into elbows moving past faces and arms reaching with empty utensils on the outbound and full, dripping forks and spoons on the retreat.
I have a nose that could benefit from alteration, albeit not by the means to which I am exposed each time I sit at such tables. Forks glide by at nostril level then back again hauling half a hog, a potato or a slab of cheese.
Throw in Diaspora, and this is a culture with at least two languages, neither of which apparently has equivalent words for "please pass".
And on a Sunday afternoon on Habalyan Street or the dozen other addresses I am privileged to indulge in such scenes, there is no more fun and tasty place to be.
On this day I look at these young faces around me. They are descendents of a generation my parents knew as the "starving Armenians". It is an image hard to conjure at this table.
We are here to celebrate Hayk's birthday and his and Tatevik's second anniversary. The guests are former comrades from his army days in Karabakh. And they are faces that have become familiar to me over five years.
Karen and Valery and Egishe and Hovik and Mais and Artur. I saw most of them first in army uniforms. Today I see them next to their new wives and I meet three children that have been added to this extended family in the past two years.
I have spent summer nights with some of them in Karabakh fighting bugs and eating bachelor food. This day is considerably different.
They have, if not careers, at least jobs now and one of our toasts this day is for the good fortune that two of these couples now own their own flats.
These are not fancy people, nor extravagant. They travel by minibus or drive modest cars and if their tables are not always this full, they at least have the means for making it so on special days like this.
I am often asked if things are getting better in Armenia. In this house on this day, things are pretty fine.