"I am always ready to talk about my homeland and to stay here, but I don't picture today's homeland like this," says Zhanna Markosyan, 32, as she packs her things and prepares to move to Moscow.
"How can we talk about homeland, when I don't feel myself of full value in Armenia," she says.
Today Zhanna will leave Armenia because the family has not found a suitable life. It will be the second time in eight years that they have regrettably left their homeland.
In 1995, disappointed with conditions here, the family moved to Bulgaria.
But a couple years ago they begin hearing that things had gotten better in Yerevan - new streets, more jobs, an overall economic growth.
In Sofia, the Markosyans watched the public TV channel of Armenia and became happy to see reports of factories re-opening of jobs being created and of a prospering Armenia. And so, about a year ago, they moved back.
"But when we returned, it turned out that they give a salary of 1,000 drams (about $2). What can you buy at that amount to eat well? And it's not worth talking about entertainment," she now says bitterly.
"What has been added in my homeland so far? Nothing good," she says, "only restaurants and night clubs. "
It is not unusual that a family leaves Armenia due to economic hardship. But Zhanna's is a rare case in which one has returned as life gets better for some.
But not for all, she now says.
"When we left for the first time, we were extremely disappointed with Yerevan. I always become upset when I recall those unbearable years, smoke of the stoves, darkness, deficit of everything," says Zhanna. "Our conditions were even more unfavorable: we had no job, were hungry, and whatever we could get was at three times as much price. If we stayed, we would have starved.
"When they ask us why we left for Bulgaria, my husband (Karen) jokes, 'I closed my eyes and pointed my finger to a globe, and we left for the place my finger touched'."
The Markosyans left with $980 they got for selling their possessions in Armenia.
"At first we decided to go to Poland, but that year Poland did not receive Armenians. Then we were told that for Armenians it is good in Greece, but our money was enough only to reach Bulgaria," Zhanna says.
Seeing off his family to Bulgaria, Karen left for Russia with an intention to join them a little later.
For five days Zhanna with a 2-year old child on her hands, her mother and about 30 Armenians of the same fate were traveling in a bus towards the "unknown bright future:" The 3,500-kilometer journey across borders of Georgia, Turkey and into Bulgaria were hellish.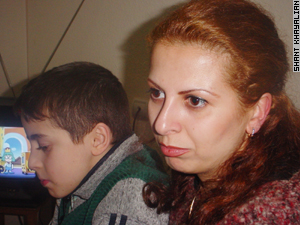 "Those were terrible days," Zhanna says. "The child fell sick of the constant run of the bus, my shoe was torn off and I fell down with the child. We were standing helplessly and crying."
And at last in the new country with a new life, they had a new title: "refugees".
"At first they did not trust us and were looking at us with mockery," Zhanna says. "The landlady thought we were Albanians telling that both words start with 'A', and for her it did not matter whether we were Armenians or Albanians. It was offensive.
"It is not true when they say that as soon as Armenians leave Armenia they appear in paradise. We had a lot of difficulties."
But eventually they were able to open a produce market and life improved.
"The time had come to rise," Zhanna says. "We had a car, domestic and technical appliances. Those were the years when we were able to make use of everything and feel good about ourselves."
But then they were betrayed by their own, as a group of Armenian thugs brought trouble to their business.
"They were sportsmen, weight-lifters, and whoever did not obey them was beaten," Zhanna says. "With their arrival everything was over for the Armenians living in that district. I never met such awfull Armenians.
"They did not beat us, but we suffered the greatest loss. They robbed our house once and the grocery twice. But we had no evidence and were afraid that they would harm our child."
The family moved to another district of Sofia, but were never able to set up a business again. But then came hopeful news from Armenia.
"When we were returning to Armenia, the Armenians of Sofia told us not to go back, because we would be disappointed," Zhanna says. "But at the same time they asked to inform them whether it is good there. We told everyone by phone, 'No'."
And so today Zhanna will leave her son with his grandmother and leave for Moscow, where Karen has already gone for work. She says those who stay in Armenia are "heroes".
"I am very sorry that after so much suffering we haven't achieved anything yet, but we will try as many times as it is needed for out goals to come true," she says.