On March 15 Armen Sargsyan, brother of assassinated Prime Minister Vazgen Sargsyan was arrested and charged with organizing the December murder of Tigran Naghdalyan, head of Public TV of Armenia. Sargsyan is the ninth to be arrested since the Presidential runoff March 5. (Another Sargsyan brother, Aram, was a candidate in the preliminary round of elections before throwing his support to Opposition runoff candidate Stepan Demirchyan.)
The official statement on the first six arrests came soon after election polls closed. Later a gun, a "TT", said to be a favored weapon of Russian mafia contract hits, was found and linked to the crime.
Sargsyan's arrest sparked protests among Armenia's oppositional political parties. But it is the action of his mother, Greta, that is getting most attention.
Monday (March 17) the Sargsyan's mother organized a sit-in protest outside the official residence of President Robert Kocharyan, vowing that she would maintain her protest until opposition activists arrested during the Presidential runoff campaign are released.
Greta Sargsyan says the arrest of her son is a "continuation of the October 27 terrorist act". Vazgen Sargsyan was one of eight high-level officials killed October 27, 1999 by gunmen who stormed Parliament.
About 7 p.m. on December 28 last year, Naghdalyan was killed by a single shot to the head as he stood near the entry to his parents' home in Yerevan.
A vocal supporter of President Kocharyan (who appointed Naghdalyan to the TV post), Naghdalyan's television programs often aimed criticism at the President's opponents. Prosecutors as well as the President himself have suggested that Naghdalyan's murder was politically motivated by opposition parties in anticipation of the election campaign period.
(A former attorney for Vazgen Sargsyan's family, however, has speculated that Naghdalyan was killed because of information he held that implicated Kocharyan supporters in the Parliament assassinations.)
Tigran Naghdalyan was born in 1966 in Yerevan. He graduated from the Faculty of Latin and German languages of the Philological Department of Yerevan State University.
After graduating from the University he had started his activities in the political area. He worked as an instructor in the Central Committee's Komsomol (Communist Youth) and still holding that position he presented his candidature to the Supreme Soviet (present National Assembly) in 1990 during the elections of deputies. He became member of Armenian Revolutionary Dashnak Party and several years later he was dismissed.
In 1991 he started his journalistic activities in "Hay Lur" news program on State TV, which by that time was headed by the present head of Public TV Alexan Harutyunyan. The programming was the first "alternative" journalism of the new style for Armenia, and it only lasted until January 1, 1992.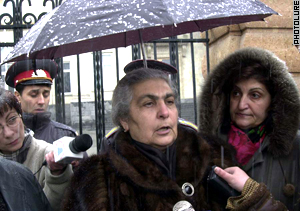 In 1992 Naghdalyan was appointed to the post of the head of Dashnak's "Hay Lur" news service and again he presented his candidature to the Supreme Soviet and was elected.
In 1994 he founded "Past" (fact) news agency. Later he became correspondent to the "Azatutiun" (freedom) radio station, where his reports became known for their clear eye with Armenian language and humor.
In 1998 during presidential elections Tigran Naghdalyan, already as a head of National TV, was one of the main organizers of Kocharyan's campaign.
Over the past four to five years Naghdalyan's activities were more political. He became one of Kocharyan's main supporters.
Following the Parliament assassinations, Naghdalyan's support of Kocharyan became more pronounced. His Orakarg ("Agenda") television program was a main source of positive programming for the President and a thorn of contention for the opposition.
The "Justice" Coalition of the Opposition, which is headed by Demirchyan, Aram Sargsyan and former Presidential candidate Vazgen Manukyan, released a statement saying that Armen Sargsyan's arrest is part of a mass sweep by authorities to shut down those protesting the validity of the elections.
The arrests, the statement claims, are aimed "to prolong illegal government and prevent nation-wide movement."
Aram Sargsyan says "he (Kocharyan) did not arrest my brother but he took him as a hostage. He tries to make me silent."
In reply to the sit-in and statements made by opposition parties, reporter of "Hay Lur" news program of Public TV read Armen Sargsyan's relative Hovhanes Harutyunyan's testimony to the Prosecutor's Office.
According to the Prosecutor's Office, Harutyunyan told investigators that Armen Sargsyan ordered Naghdalyan's murder and offered the killer $50,000.
After meeting with Armen Sargsyan on Monday, attorney Robert Grigoryan said that his client has not pled guilty.
According to the Associated Press, last year the United States government imposed sanctions against Armen Sargsyan, accusing him of having ties to a company that allegedly sold technology to Iran that could be used in the development of weapons of mass destruction. Sargsyan has denied the accusation.