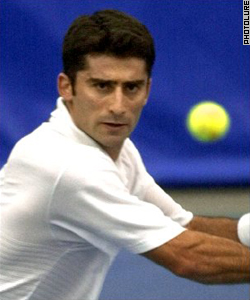 Another series of ATP tournaments were marked by ups and downs for Armenian tennis players.
American-Armenian Andre Agassi suffered 7-6(6), 4-6, 1-6 defeat in the first round of "Franklin Templeton Tennis Classic" International Series Tournament from Thomas Enqvist of Sweden.
Agassi, whose record was 12 wins and 0 losses this year, met with Enqvist eight times during his professional career and always beat him. This time No. 1 lost to No. 100.
David Nalbandian (seeded 3) of Argentina continues his road toward victory at the same competition.
Playing on the hard court surface of Scottsdale, Arizona he beat his country mate Agustin Calleri (ranked 15) in the first round 7-6 (3), 6-3 ranked and reached the next round, where he will be playing against another Argentinean Franco Squillari (current rank 74).
Sargis Sargsyan of Yerevan scored a first round victory, 7-5, 6-2, over number two seed Guillermo Coria from Argentina in competition in Delray Beach Florida.
In the second round Sargsyan will play Vladimir Voltchkov of Belarus, ranked 57.