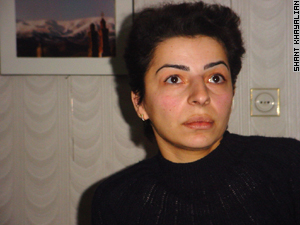 On Yerevan's Abovian Street, the Rainbow Garden awaits inside Building No. 44.
The ringing of a fairy-tale bell is followed by warm welcome. On entering the Rainbow Garden one can feel and see the wonderful seven rainbow colors with the help of which the true fairy-tale of the garden was created.
"Every day about 20 families visit our center, where parents and children are in peaceful and pleasant atmosphere," says Nune Avetisyan, head of the Green Floor Rainbow Garden's Center on Early Socialization of a Child.
Children are allowed to do everything in this garden. They are playing all those games that are often forbidden by their parents, but must follow two rules strictly: when approaching to the pool full of water they must put on an apron, and while riding bicycle they must not get over the marked border.
The Garden's psychoanalyst, head of the Physiological Department of Valeri Bryusov State Institute of Foreign Languages Angela Vardanyan says: "There is no 'one should not' here. There is logic in what 'one should not' in the garden. Everything is allowed to do but with an understanding."

The Rainbow Garden of Yerevan was founded in 1996 thanks to Armenia's Childhood French organization. The organization's president Erik Legro had started rendering charitable aid to Armenia's children's homes and boarding schools soon after the earthquake of 1988.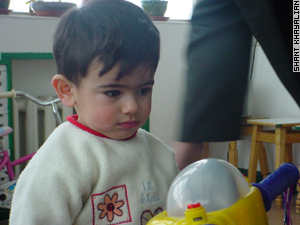 Armenia's Childhood organization is a member of 'Le Harpe' (lyre) French Association, which is the owner of the Rainbow Garden. President of the association Willy Baral is still sponsoring the Garden, where staff are trained and routine seminars conducted by Vardanyan.
Unlike other organizations of Armenia receiving children, the Rainbow Garden is being visited by parents and their children at the age of 0-4. It is a place for leisure and relaxation. Here you obtain a new way of thinking.
"We do not interfere with the children's playing, we let them be free," says pedagogue Ashkhen Narimanyan. "Often parents disturb them and we gently prevent them."
Narimanyan stresses the importance of a child's freedom, his or her free idea. A child is the lord of his or her favorite occupation and games.
A rainbow on the wall of the garden symbolizes a union of sky and earth. Water flowing from a small fountain into the pool is another symbol of life. Children go up the stairs of a wooden castle to the second floor and watch their world from above.

"In this extremely politicized world, birth of the Garden is the first revolutionary step by which the right for confidence of a child as an individual is being restored and confirmed," writes physiologist-pedagogue Karine Barikyan, head of the center, in the publication "The Revolution of Little Steps".

Since 2000 Barikyan and her husband Raffi Setyan have been sponsors of the Garden.
There is no charge for children and parents to attend the Garden. Over seven years it has received about 21,000 children. When a child enters the garden, his or her name and age are written down on a blackboard.
"Psychologists use special methods of work, so that a parent can understand his or her child's problem by means of games and drawing," says Avetisyan. "There are always unique children who differ from each other. We listen to them, help and understand them to the extent they trust us."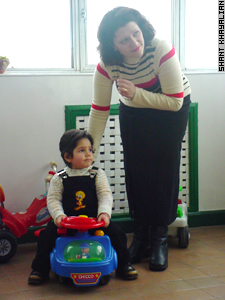 There are 300 Rainbow Gardens throughout the world, since the first was established in Paris in 1979.
"We pay special attention to pregnant women, to their mental state," Vardanyan says, "as during intrauterine life a child starts to understand everything. He has already got his individuality."
The center also has become a place of meeting for divorced couples. There they often restore their relations and families.
The Garden's staff of 18 tries to help children develop their creative world leaving comments for their parents.
"Children and parents are always together," says Avetisyan. "First of all it is a place where they can communicate. Communication with the help of psychologist's analysis often help parents to overcome the aggression that parents have."
Children leave the Garden happy and excited. They impatiently are waiting for the next visit. Pedagogue Narimanyan mentions that parents say that they could hardly keep their children at home till 11 o'clock, when the Garden opens.