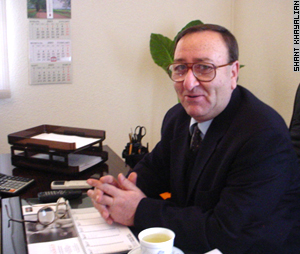 Yerevan is running out of room for its dead. According to at least one specialist, unless conditions and customs change the capital could become "Cemeteryland" in the next two decades.
"Condition of the cemeteries in Yerevan is very depressing," says Garnik Aghajanyan, director of the city's undertaker's office. "If new cemeteries are not opened we will face the reality of not having any place for burying in almost one year."
Today 14 cemeteries out of 18 in Yerevan are considered to be closed, as far as they are full, and have no territory for expanding. New plots for burials are allotted only in four cemeteries, which the undertaker's office says will also be considered closed soon.
In reaction to the crisis, the Government of Armenia allotted 87 hectares to the Yerevan Town Council to be used for three new cemeteries.
About 20 burials take place in the capital every day.
But it is not the number of burials, but the amount of land occupied by each burial that has created the shortage of space. Each gravesite is allotted 10 square meters, however it is often the case that families fence off areas two or three times that size to allow room for relatives. Aghajanyan says managers of several cemeteries were fired for allowing the violation.
He says, however, it is impossible to restrict such occupation at cemeteries where families see large sites and demand such territory of their own.
Next to cemeteries with approved gravestones and small plots left from the Soviet period newly designed cemeteries of independent Armenia mushroomed within the past 10 years.
"There are gravesites in Yerevan that can be treated as places of art," says Karen Darbinyan, director of the stone processing industrial union Ktevan Ltd. "These are real works of art created by architects and sculptors. But these precious works are just wasted money, and have no value, because they are located in the cemetery."
In the capital, a common grave marker can be purchased for as little as $200. But the trend of late is for families, often at great sacrifice, to spend $1,000 to $1,200. And among Yerevan's new rich, there is the occasional order for up to $100,000 for monuments of precious stone.
Psychologists explain all this as phenomenon associated to the process of development.
"In this period of changes we abandoned our idols, refused everything we had before, and now we are looking for new criteria," say Anzhela Vardanyan, psychoanalyst-psychologist, assistant professor of psychological sciences. "Our social system has changed. Before it was frightening to be rich, because they could imprison you any time for that. Now it symbolizes power, strength and beauty, which is also being expressed in this sphere.
"Of course there are people leaving to other countries to earn money through their hard work, then spending it for decorating their loved one's grave and afterward starving again. But this is very important for them. We have to respect their right."
Yerevan's new cemeteries will be located in the three ends of the city and according to the director of the undertaker's office proposed sizes will be kept.
"The Parliament has to pass the law on burials soon, and according to it the family of four gets no more than a 10 square meter plot," Aghajanyan says.
Still, this is a short-term solution he says.
"According to our estimations territory of 87 hectares will be enough for 10 years, and there will be a need for additional space after," Aghajanyan says. "If everything continues like this, 20-30 years later Yerevan will become a cemeteryland. The only solution is to have a crematorium."
It costs about $1 million to build a crematorium, the director says, an amount that exceeds allocations of the State budget.
But it is not only financial considerations standing between the lack of burial space and a potential solution.
"We are Christians and if we act according to the Gospel the dead must not be burnt. 'You were made from soil and you will become soil again'," says Father Tirair Sahradyan of St. Hovhaness Church. "The body has to be given to the soil as Christ was given to the soil.
"As an individual, but not as a clergyman, I cannot imagine my father being burned. This is inconsistent phenomenon for the Armenian. The Armenian has to make a dirge, put the coffin on his shoulders and take it to the cemetery, and the priest must say a prayer. Otherwise, one of the seven Armenian Church sacraments-burial orders -would be misplaced."
But the psychoanalyst says the current population can be led to change.
"It is not important we are or aren't Armenians. We can adopt phenomenon of cremating, accept it in the Armenian way, and do it in a way convenient for us," Vardanyan says. "This doesn't mean to say a last good-bye to the loved one in a barbarous way. We can keep traditional rituals."
She says the important issue is how the concept of cremation might be presented.
"Death is also a business. If cremating is State-funded there will be many interested people. The most important matter is to give people free choice. This problem needs individual solutions, and everyone needs to choose for himself the way to say good-bye to his relatives."