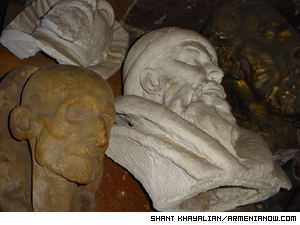 Sergey Merkurov had the gruesome task of making death masks from the deceased.
Not many tourists to Armenia rush to see Gyumri, a city that was known as the capital of craftsmen but was destroyed by the monstrous 1988 earthquake. Still, there might be a good reason to stop by for at least a couple of hours.
And if "you've got to visit Merkurov's museum" might not seem the best promotion formula to travelers because it doesn't tell you anything, then "you can see the original Lenin's mask only in Gyumri" is definitely appealing.
The post-mortem masks of 59 Soviet leaders and famous people lie in the museum of Sergey Merkurov (1881-1952), a sculptor born in Alexandropol (the old name of Gyumri) in a family of Greeks.
Among them are those of Russian writers Leo Tolstoy and Maxim Gorky, Armenian poet Hovanes Tumanyan, Russian revolutionaries Frunze, Dzerjinski, Ordjonikidze and the ones of Lenin and his wife, Krupskaya.
Talking about Merkurov's legacy, historian Arshak Manukyan, who is the Museum's director, says that the sculptor developed a passion for portrait genre since he was a boy.
Merkurov never thought he would dedicate a great part of his work to post-mortem masks until 1907, when, while working abroad, he was called to Armenia by the Apostolic Church authorities to execute a mask of dead Catholicos, Mkrtch Khrimyan. It was his first work of this kind.
It is known from the sculptor's diary that his first experience was quite creepy. Natalya Kolesnikova, a Russian sculptor, researched the works of Merkurov and wrote an article on how the author managed to execute the first post-mortem mask. She cited from his diary:
Merkurov's plaster casts included famous faces such as Leo Tolstoy and Vladimir I. Lenin.
"…Bishops have locked the doors after me and I ended up being alone with the deceased", voices a fragment of Merkurov's memoirs. "I approached the bed of the patriarch, opened the bed sheet and saw an old man in a red ripped jersey. Big beard. Hock (hawk?) nose. Head turned back. It was impossible to make the mask in this position. I took the body in my arms and put it on a chair. Terrifying… Cold…"
Then, historian Manukyan recounts that only after pouring the plaster on the Catholicos head, Merkurov realized that he forgot to split it with a thread while it was soft and fresh. So, he took the plaster out and was going to repeat the procedure until he suddenly saw that the eyes of Catholicos had opened.
For a couple of moments, Merkurov thought he lost his legs out of dread but then he figured out that because of crystallization, the plaster warmed up and under the mask, the face thawed out too and the eyes opened.
The second post-mortem mask was made in Moscow three years later. It was the one of Tolstoy. And even if it was not the first time Merkurov was dealing with this kind of experience, it was not an easy test.
Again, Merkurov's recordings disclose that he was quite nervous when executing Tolstoy's mask. And not only his. It was a high responsibility, as post-mortem masks are not merely a piece of (macabre) art but first of all a historical document. Moreover, it was quite often that Merkurov was executing masks to bodies that belonged to his friends and their death was a difficult occurrence.
The technique itself is not an easy process. The author pours plaster on the body's face and puts a thread in the middle of it so that he takes it out easily when it dries. When the plaster is solidified, it is taken out and assembled again. Afterwards, another material like bronze or plaster is poured inside the mask and this is how a face in real size of the deceased is resulted.
Well, everything historical is exciting so far. The only problem with these masks is that they are not really revealed to the public. At least not yet. Because the museum was partially destroyed during the earthquake, it has been in a continuing rebuilding process since then. But as its director says it will reopen soon as the Lincy Foundation has financed the reconstruction works.
Meanwhile, masks are kept in the Museum's storage and, as an exception; they can be seen by some foreign visitors before the official opening.