Armenians love the nightlife, they love to boogie. Or at least to sit and see how long a cheap cup of coffee can last as summertime entertainment.
Here, the day seems to begin at night, as cafes start to fill up at sunset and some bars, discos and show clubs keep the beat until nearly dawn.
There are way too many to list. Below are a few that might give you a glimpse of how Yerevan's beautiful people enjoy themselves when they're not home doing those traditional things for which they are more famous.
Cafes
Yerevan's cafe culture can choose from more than 400 cafes in the center alone..
Five years ago, there were less than 200 cafes in the center of Yerevan. As of last summer, there were 406. Even more have been added this summer.
If you go out in mid-evening, expect to wait for a table, as the city's apartments empty under the umbrellas and pavilions of so many (but with business for more) outdoor drinking and eating spots.
Over the past two seasons, billiards (both American and Armenian) have become a popular addition to the café menu.
Bravo
A relatively new addition to the Yerevan nightlife scene, Bravo is located on Kochar Street (just up from the Hayastan Market, near Komitas). The three-tier club offers restaurants (one featuring traditional Armenian food) on two floors and soon will open a third room for jazz.
If you want to feel like Indiana Jones in the Temple of Doom or if you want to be carried away to the ruins of Mayan tribes somewhere in Mexico, the tropical hall of Bravo restaurant is the best place to go. The hall features live entertainment and is best enjoyed when its five-guitar, one-flute Latino music ensemble is playing.
Astral disco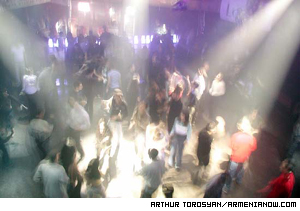 Astral opened last fall and is Yerevan's biggest and one of the most popular discos.
If you like to dance and if where you're dancing is important for you, Astral is your place. A 750 square meters disco club right next to the Opera House, deep under the ground, very nicely decorated and designed, with a lot of space to dance and show how good you are without hitting your elbows into someone else dancing right next to you.
Monte Cristo disco
An intimate (read: crowded) disco on Vazgen Sargsyan Street, Monte Cristo is famed as Yerevan's most "liberated" hot spot.
Here, under the French restaurant of the same name, gays are welcomed to the mix - a courtesy severely lacking in "mainstream" Armenia nightlife.
Crowds of several persuasions and ages have made Monte Cristo a favorite for the past two years among people who feel at home banging elbows with a diverse group.
Pioneer
Pioneer club has been offering dance and cabaret shows for seven years.
This Baghramian Street nightclub might be considered Yerevan's "last man standing" among such establishments, as it has maintained a steady business for at least seven years.
Previously known as a "strip club", the dancers (men and women) there wore skimpy costumes, but there was no nudity. As real strip clubs came to town, Pioneer changed its program to offer a variety show which features some of Armenia's most popular singers, including Forsh and Aramo.
Some evenings after midnight, there are showgirls who strip in the club's renovated hall, where walls and high-backed booths have been removed, making for an open-space stage.
Omega
For those who've never been to Armenia and every mental picture is of ancestors in one or another tradition, customs, habits… this will come as some surprise: Yes, there are strip clubs in Yerevan. Very sophisticated ones, though as the number grows, the quality decreases.
And, yes, there are Armenian girls dancing in those strip clubs, though the number of Russian dancers usually dominates.
One of the classiest and most popular is Club Omega, on Terian Street. Until about midnight, the club offers a cabaret of local singers, suitable for the whole family. Later, girls dance topless for patrons (men and women seem comfortable there) who discretely reward them with folded drams or dollars. (Oddly, perhaps, one of the most popular dancers does not strip, but in fact does a very vigorous and seductive belly dance.)
The club is in a basement and patrons are welcomed to large and plush booths under soft green lighting and an atmosphere where life - except for semi-nude girls twisting around poles on a catwalk - seems to be in slow motion.