An adventure-sport competition concluded Sunday (July 13) in Armenia in which 13 teams representing France, the United States and Armenia tested their skills in different parts of the republic.
The event was organized not only as a sports competition, but as a way of promoting Armenia as a destination for outdoor adventurers.
The competition started with a bicycle race from Yerevan to Mount Aragats. Competitors were then bused to Lake Sevan for a 23-kilometer canoe race, followed by a running race and an orientating challenge. They also rode horses for about 30 kilometers, and climbed cliffs near Geghardt.
Awards went to the best experts and the best amateurs, with the French winning the professional category and students from the French University of Armenia winning the amateur division.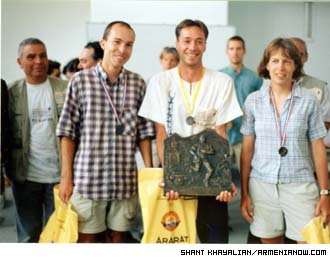 A French team won the professional race, while the French University took the amateur title.
Armenia Tsaratunk (non-governmental organization) was one of the sponsors of the event. "We are interested in extreme tourism," territorial head Suzan Yakobyan Klayn says. "Foreigners (to the race) have been exposed to Armenia and the positive impressions they got is already a big achievement for us."
Participant Arnoldo Chakerian says that he liked his father's motherland very much. "I have now understood why this country is loved all over the world. Most of all we liked the sincere hospitality of Armenian families."
Jean Pierre is from the French Alps and was in Armenia for the first time.
"I find the acquaintance with Armenians very interesting. It is important for me that through the tournament, representatives of different countries communicated with each other. I have acquired wonderful new friends," he says.
The chief organizer of the competition is extreme athlete Claude Abitbol, from the University of Paris. He heads an organization that annually produces a book about such events throughout the world.
This is the second year he has organized a competition in Armenia, and says a decision will be made in the fall as to whether to hold one next year. If it is held, he says, the emphasis will be even heavier of extreme tourism.
"I do not know Armenia myself," he said. "I only know the part where the tournament was held. This is a small but wonderful country. All the corners would be interesting to explore in the future."