Miss Armenia, Miss Student, Miss Spring, Miss Summer, Miss Waterpark, Miss Whatever... The culture of such pageants and contests has been actively penetrating Armenia together with other aspects of western culture and it's becoming more and more popular with each day.
Tuesday (July 15) another "Miss" was added to the large archive of numerous "misses" of Yerevan and Armenia. Miss Karaoke 2002/2003.
Forget what you know about karaoke. Forget about Cameron Diaz in "My Best Friend's Wedding." This event and people participating in it had nothing to do with the amateur singing you can usually hear at karaoke bars.
And sitting and listening to the beautiful voices will make one think twice before ever singing at karaoke again, at least not sober.
The contest took place at the open-air café of one of Yerevan's karaoke bars, "Club 15".
The idea of the contest belongs to the bartender of Club 15, Martin Karapetyan. One day in December, Martin decided to do a small contest just to entertain and cheer up the guests. The idea was that whoever scored 100 got a small prize.
Seven contestants took part to find who would be the Queen of Karaoke.
A day turned into a month, a month into another month and that's how Club 15 ended up having this rather unusual event to be seen on one of the streets of Yerevan.
"No one believed I would ever make it, but I did," says Karapetyan
There were seven participants, each one named after the month during which they were acknowledged as best ones, starting from December up to June.
The sounds of recorded music were replaced by really strong and beautiful voices. If not the obvious anxiety of participants performing for the first time in front of a big audience, one could think it was a concert of some popular Armenian singers.
The contest consisted of three sets, and during the last one the participants were to sing something without any music accompanying, so that the guests (for it was they who were to vote in the end) were able to give a more clear estimation of who they thought was the best among the seven.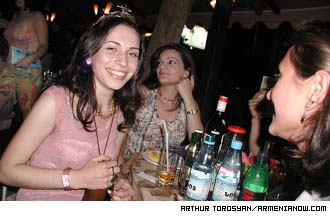 Miss Karoake 2002/2003 won a trip for two to the Black Sea.
"Can you tell me a case of fair voting in Armenia? However, I managed to make it transparent," says Karapetyan (in a reference to the recent fraud-filled elections).
"The good thing about this contest is that it reveals talents. Some may continue a singer's career; some I know already got proposals. Everyone can try themselves without having to pay for it," says Suzanna Morsikyan, one of the participants who was recognized as "Miss Juicy" (in a segment of the competition partly sponsored by a fruit juice producer).
The winner of the contest, Narine Mnatsakanyan sang Armenian pop and folk songs, including "Karot", one of the most popular songs on Armenian radio.
Miss Karaoke 2003 got the winner's crown and a trip for two to the Black Sea.