Tennis

(ATP Tour)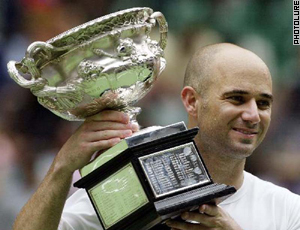 Andre Agassi's win of the Australian Open puts him at the lead of the new ATP Championships race with 200 points and $657,000.
But the tournament also improved the standing of lesser known David Nalbandian (of Argentina) who is now ninth in the ATP race with 51 points (and $82,000 earning).
And Yerevan's Sargis Sargsyan made a 13 position leap going from 31 to 18 after reaching the Round of 16. Sargsyan has 38 points and has earned $41,000.
(WTA Tour)
In women's tennis Bulgarian-Armenian Magdalena Maleeva reached the third round of Australian open, where she suffered defeat from Russian tennis player Yelena Bovina 5-7, 6-4, 5-7. Maleeva is now 14th in WTA rankings.
After losing in the first round of the Australian Open Marie-Gayaneh Mikaelyan of Switzerland remains at 36th place.
Figure Skating (European Championships 2003)
The European Figure Skating Championships finished last Sunday in Malmo, Sweden.
Armenia's sole entry Aramais Grigoryan finished last out of 30 competitors in Men's Singles. Grigoryan decided against skating in the Free Skate part of the two-performance program after finishing last in the Short Program.