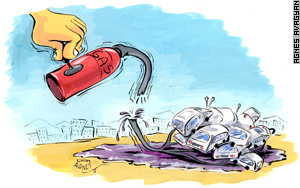 On his way to deliver a passenger to work Tuesday morning, the RadioTaxi stopped half way to its destination and driver Artyom offered an apologetic smile and an explanation that the car was out of gas.
His was not the only one, as throughout the week Armenia started to feel the effects of being cut off from its supply of propane, caused last weekend by a break in pipes in Russia.
Normally, the country receives eight million cubic meters of gas a day from Turkmenistan. But the main pipeline broke down in North Ossetia, and the reserve line was damaged by a landslide, leaving Armenia and Georgia cut off.
The effect in Yerevan was quieter streets, except for the complaints of would-be passengers waiting for mini-buses. Most of the "mashrukhas" run on propane (as do many cars and trucks here) and the unavailability of gas has severely cut transportation links. (There are about 2000 minibuses in Yerevan, running about 70 routes.)
Authorities say Armenia has enough reserve gas for essential use for several more days, however, refueling stations have been closed since Monday.
"About 95 percent of the minibuses serving Yerevan run on natural gas"
says Areg Barseghyan, head of Yerevan Transport Department.
According to Barseghyan, about half the minibuses were running by Wednesday. The result is long lines and overloaded buses.
"There were some 30 people (12 people is the norm) in the minibus
today", says Gayane Avetyan who takes a minibus to work. "We had to stop every other minute either to pick up or to drop someone
off."
Avetyan says the crowded bus she was riding had a problem.
"Either the constant stops or way too overloaded bus caused the brakes to fail. It was scary having the car run down Massiv hill without brakes."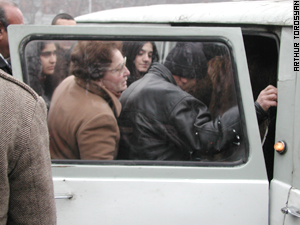 Some minibus drivers are taking advantage of the situation and have increased fares.
"I was asked to pay twice as much as I normally do," says Vera
Minasyan. "The driver referred it to increased fuel costs."

As Barseghyan from the Transport Department said there was no official
permission for drivers to increase the ride fees.
"I personally received complaints in this regard," says Barseghyan. "The increased fees are illegal and we take measures to cease this trend".
Yesterday (January 23), Russian President Vladimir Putin personally gave an order that the pipeline must be repaired "in one day".