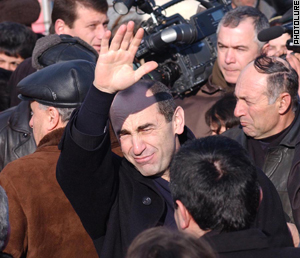 Armenian President Robert Kocharyan, in comments Monday, made clear that he aims to win next month's presidential elections without going into a runoff. (Official campaigning for the February 19 vote began Tuesday.)
"Opinion polls show that this is quite realistic. But the pre-election struggle remains a pre-election struggle, and we must work hard. Time will tell [whether we succeed]," Kocharyan said.
Most opinion polls do, in fact, give Kocharyan a substantial lead over his main challengers. The surveys, conducted by government-linked pollsters and mainly publicized by pro-presidential media, claim his popularity is rising steadily and will result in a landslide re-election.
But other pollsters are more cautious in their predictions. Aleksandr Avetisyan is the director of the Center for Election Techniques, a private polling agency in Yerevan. He said Kocharyan's chances of first-round victory are "fifty-fifty."
"It is difficult to make such a forecast at the moment because, in my and not only my opinion, it is the campaigning that will have a decisive impact [on the election outcome]. And that is only now getting under way," Avetisyan said.
Boosting Kocharyan's chances is the failure of Armenia's main opposition parties to nominate a single presidential candidate. It appears that the protest vote against the current regime will be split among at least four opposition candidates. Two of them, Stepan Demirchyan and Artashes Geghamyan, are now seen as Kocharyan's main challengers. They both have a leftist political orientation that contrasts with Kocharyan's emphasis on free-market economics.
Analysts agree that opposition leaders stand a fighting chance of defeating the incumbent only in the event of a runoff. For that reason, Kocharyan's intention to win a first-round victory with a simple majority has caused considerable agitation among his opponents.
Some among the opposition have gone as far as to allege Kocharyan will use ballot rigging in his quest for a second term in office, saying his decision to appoint as his campaign manager the country's powerful defense minister, Serge Sarkisyan, only cements their conviction that the President intends to win a first-round victory by any means possible -- fair or foul. They also point to the controversy surrounding Kocharyan's second-round victory in elections five years ago.
A monitoring mission from the Organization for Security and Cooperation in Europe (OSCE), had concluded that the 1998 vote did not meet democratic standards. The upcoming polls will again be watched by more than 250 OSCE observers. Their head, Peter Eicher, is already urging the authorities to prevent a repeat of the past irregularities.
"We hope that this year's mission will be able to report further progress and will be able to conclude that Armenia is now meeting its international and domestic obligations on democratic elections," Eicher said.
The vote will be a serious test of the Armenian government's stated commitment to democratization and integration into various European structures. The West's future policy decisions on Armenia will be based primarily on the findings of the OSCE observer missions.
The U.S. and European Union ambassadors to Armenia highlighted their concerns last November when they suggested several antifraud measures in a joint letter to Armenia's Central Election Commission.
Some local media have suggested that the United States would like to see Kocharyan smoothly re-elected, in the hope that the Armenian leader will continue U.S.-backed international efforts to resolve the conflict over Nagorno-Karabakh.
Kocharyan has held more than 20 face-to-face meetings on Karabakh with Azerbaijani President Heidar Aliev during his presidency. With presidential elections due in both Armenia and Azerbaijan this year, few observers expect a breakthrough on the issue before 2004. Electoral victories not marred by allegations of fraud would give the two leaders a popular mandate to press ahead with mutual concessions needed to end the protracted territorial dispute.
Karabakh, however, is not expected to be a major issue in the Armenian presidential race. Opposition candidates will likely focus on continuing hardships suffered by Armenians despite several consecutive years of economic growth. At least half of the country's residents live below the poverty line.
Kocharyan, on the other hand, argues that positive change is being made, albeit slowly. In particular, he is likely to stress record-high economic growth of 12 percent registered by the authorities last year. A few more such years, his supporters say, and Armenia will turn the corner.
According to pollster Avetisian, quite a few Armenians buy Kocharyan's argument: "A considerable part of the electorate really believes that Mr. Kocharyan has done a lot in recent years [and] doesn't see any alternative to him and would simply like to let him finish the job."
In addition, Avetisyan and other analysts say, the incumbent president is running by far the most expensive election campaign, funded by many wealthy businesspeople and backed by virtually all major television stations in Armenia.
The only national television channel that aired criticism of Kocharyan, A1+, was shut down last April -- a development that critics say marked the start of Kocharyan's re-election campaign. Faced with strong domestic and international criticism, the authorities reportedly promised the Council of Europe to enable A1+ to resume broadcasts before the presidential elections. However, that became impossible after a government-administered bidding for television frequencies was canceled last November under unclear circumstances.
This means that Armenian television viewers will hear virtually no criticism of Kocharyan over the next four weeks. The one exception will be the three hours of airtime on state television allotted to each of the opposition candidates. Under Armenia's election law, however, only a third of the time will be provided free of charge by state-run Armenian Public Television.
Furthermore, campaigning rules approved by the Central Election Commission yesterday stipulate that a single candidate cannot run more than 10 minutes of advertisements a day in the run-up to the elections.